New Barrett Drawings To Be Shared
Resources & Links
Action: Pay Your Respects and Discuss | News: Syd Barrett Dies At Age 60 | Multimedia: Syd Barrett Photos | 
---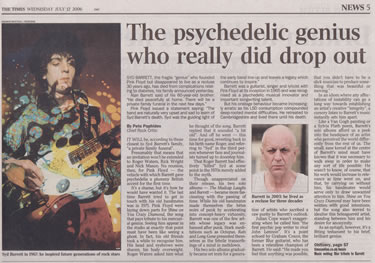 The Times: Feature on the Death of Roger Keith Barrett
The world's media have paid respect to the late Roger Keith Barrett in their comprehensive and prominent news coverage. Just about every major news player around the workd
New Barrett Drawings To Be Shared
The daily magazine website First Post will be sharing some never-before-seen drawings that Roger Keith Barrett made when he was young. Tim Willis, author of the excellent book The Madcap Laughs: The Halflife Of Syd Barrett, contacted NPF to share the news. The images will be available tomorrow (13th July 2006) from this link.
A Selection Of News Stories
Below are a small selection of the news storys posted in reponse to the announcement of Roger Keith Barret's death. If you have any to share, then please do so on the forum on this thread. If you have any newspaper clippings and would like to share them, then please get in touch.
Sources: [ Tim Willis + Others ]