New Cover of Shine On!
Resources & Links
Download sample of Shine on (1MB) | Chat about the cover version on the forum | Visit Jack's website | Buy Album for £12.99 at Amazon.co.uk
Jack Irons, a talented American drummer who has played with Pearl Jam, the Red Hot Chili Peppers, Joe Strummer and others, has recently released his first solo album "Attention Dimension."
The collection features an excellent cover of "Shine On You Crazy Diamond" with Pearl Jam's Eddie Vedder on vocals and noted bassist Les Claypool (Primus) on bass. You can listen to a sample of Shine on you Crazy Diamond or listen to samples from the entire album at Irons' website here.
You can purchse the album for £12.99 at Amazon.co.uk.
Information About Jack Irons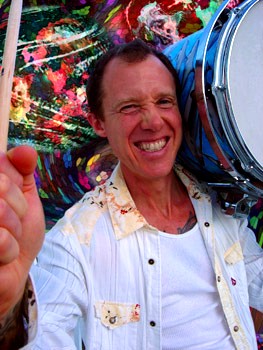 Jack Irons. Even if you're not immediately familiar with the name, it's guaranteed that you're familiar with his work. This talented and versatile drummer has played with the Red Hot Chili Peppers, Pearl Jam, Eleven, Joe Strummer, Neil Young and others. With Attention Dimension, his first solo release, Irons steps to the forefront – turning the tables as his former bandmates join in helping him realize his own musical vision.
Attention Dimension defies categorization. While primarily an instrumental work, this sonic smorgasbord pays homage to space rock, world and Indian music as well as indie rock. Irons takes a Pink Floyd classic ("Shine On You Crazy Diamond") and truly puts his own imprint on the tune with tribal percussion and the tender but menacing vocal courtesy of his friend Eddie Vedder.
To get to the core of understanding how this diverse body of work was born, it's necessary to take a historical look at Jack Irons' illustrious career.
Irons started playing drums at the age of 13, taking music lessons with his best friend Hillel Slovak. The two started playing music together after school, eventually hooking up with two schoolmates, Alain Johannes –a guitarist and a short time later a bass player better known as Flea. Their band, Anthym, used to be introduced by one of Flea's best friends, Anthony Kiedis.
Anthym became What Is This. Flea left to play with Fear. In 1983, he and Kiedis asked Irons and Slovak to help them open for a friend. The four learned one song and debuted as Tony Flow and the Miraculously Majestic Masters of Mayhem. The crowd really dug it, and the Red Hot Chili Peppers were born.
Irons and Slovak played with both bands for a time, and when each band was offered record deals their loyalty and history with Johannes guided them in their decision to choose What Is This. Slovak rejoined the Chili Peppers in the middle of recording the second What Is This album. What Is This disbanded a couple of years later, after Johannes started a new project with Natasha Shneider. The Chili Peppers re-recruited Irons in '86, in time for the recording of The Uplift Mofo Party Plan. The album and the band began to take off, but Irons started to experience the beginnings of an anxiety disorder. The 1988 death of his best friend Hillel Slovak only made that worse. Irons left the band knowing his illness would not permit him to give the intensity the up and coming band needed.
In late '88, whilst receiving treatment in hospital Irons got a call from a friend of Joe Strummer. The recording of and subsequent tour around Strummer's Earthquake Weather had a profound effect – Irons met his wife in San Francisco, and it was at the San Diego show that he met a guy named Eddie Vedder. The two became good friends.
Shortly thereafter, Irons reunited with Alain Johannes and Natasha Shneider and began playing together as Eleven. He was approached by Stone Gossard and Jeff Ament, but turned the project down because, as an expectant father, needing steady work he'd committed to a nine week tour with Red Cross. Gossard and Ament played Irons a demo without vocals and asked if he knew any good singers. Irons immediately passed their demo on to his good friend Vedder. You know how that story turned out.
Although Irons had other opportunities to play with Pearl Jam in the early '90's, it wasn't until fall of 1994 that it happened. (Interestingly, Matt Cameron ended up finishing the record Irons had started with Eleven in 1994) That was also the year that he began recording his first piece of drum music – a demo called "Small Mosquito" that Pearl Jam liked to play before taking the stage. His time with Pearl Jam encompassed the recording of Merkinball, Neil Young's Mirrorball, No Code and Yield, as well as extensive touring. In 1998 on the Australian tour, Irons' anxiety disorder got the best of him and he decided to take a break from touring. Matt Cameron stepped in.
The subsequent years have been about recovery, healing and right living for Irons. The need to create never diminished, and Irons vowed that if he could finish an album of his own, he would. He began to seriously record his own music in the fall of '99, taking time out to record a new Eleven album, Howling Book, which the band released on its own label in 2003.
Attention Dimension is brimming with vitality – and with collaborations from Irons' longtime friends. Gossard, Ament, Flea, Johannes, Shneider and Vedder all make appearances, as does Primus' Les Claypool. It's an album that captures the wonder of new opportunities, continued discovery and accomplishment. It took five years on paper, but it's the work of a lifetime.
Source: [ Wendy Weisberg ]