New Pink Floyd Books for 2021
There are plenty of books out there covering the history of Pink Floyd, and what a long and epic journey that has been. There are a few new ones on offer covering concert photography, sound systems development by WEM and have limited print runs. Take a look below.
Pink Floyd – The Rob Verhorst Archives
Rob Verhorst's career spans well over four decades. David Gilmour, Roger Waters, Rick Wright and Nick Mason have been a common thread in his working years. The gentlemen of Pink Floyd, as a group but later also solo, often appear before the lens of the Rotterdam (pop) photographer. A first encounter in Sportpaleis Ahoy' in Rotterdam in 1977 makes Verhorst decide to combine his two passions – photography and music – and to make it his profession. His picture of a deflated pig in Ahoy' also inadvertently reveals a unique way of working. Verhorst not only goes for the big picture, but knows – like no other – how to capture details that only someone with an eye for detail and a strong urge for perfection can capture.
His photos do not remain unnoticed for long and soon start to appear in newspapers such as Rotterdams Dagblad and renowned music magazines like Muziekkrant OOR, Muziek Expres, Hitkrant and Music Maker. In the years that follow his photographs of the 1980 Pink Floyd shows at Earls Court in London to promote The Wall go global. In the 1980s, Verhorst is always there, everywhere. He ends up with David Gilmour in Muziekcentrum Vredenburg Utrecht in 1984 and Roger Waters in Sportpaleis Ahoy' that same year. He documents Pink Floyd's comeback in Rotterdam in 1988 and a year later in Werchter and the Goffertpark in Nijmegen. A picture of Pink Floyd in front of a battery of his colleagues during a photo session in Versailles in 1988 is a classic, just like so many others. Rob Verhorst's photos of Pink Floyd – but also those of dozens if not hundreds other world acts – have become a staple of the renowned Getty Images catalogue.

In 1990 Verhorst photographs The Wall for a second time – this time Roger Waters' performance in Berlin – and frequently captures the former Pink Floyd bassist in the new millennium, in 2011 in Arnhem for a third time performing The Wall. He is one of the few – and perhaps the only one professionally – who has shot the three tours of the concept album in as many decades. For this book, Rob Verhorst (1952) made a selection of no less than three hundred iconic Pink Floyd photos, many of them previously unpublished. Together with memories and additional visual material from his archives they form an impressive collection and legacy.
Pre-order this limited edition book
The Development of Large Rock Sound Systems, WEM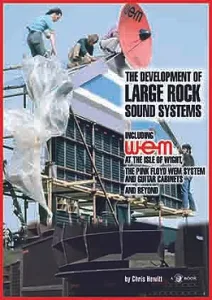 Another limited edition book this time just 500 copies. The book of WEM, The Isle of Wight 1970 and Pink Floyd Sound systems. It will sell out as it is only 500 limited edition run, 148 pages on silk art paper, just under 200 rare photos, many not seen before, many in colour, unseen photos of artists at The Isle of Wight 1970 including Hendrix, history of WEM PA systems and Starfinder guitar cabinets, WEM with Pink Floyd at Pompeii, the Floyd transition into Martin Audio and so much more.
Pink Floyd Captured Through Time Paperback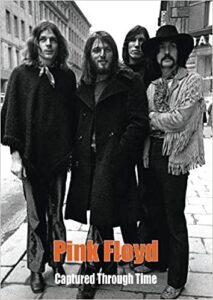 Spanning more than half a century Pink Floyd has rightly earned its place as one of the greatest rock bands of all time. From the early, experimental and often whimsical days with band leader Syd Barrett to the more expansive style with Dave Gilmour onboard, leading to the masterpiece Dark Side Of The Moon that elevated Floyd into the stratosphere. But success came at a price as personal relationships suffered, culminating in break-ups as eventually Roger Waters departed. But stadiums and huge arenas continued to welcome Floyd through the eighties and nineties with a brief reunion with Waters for 2005's Live 8 event.
Captured Through Time is a photographic celebration of this truly iconic band that takes you on a journey from the psychedelic, avant-garde sixties to the present day including off stage shots of all band members during the 2000s including Syd Barrett!
Many of the photos have never been published before, including a sequence of shots from the Animals tour in 1977 that were developed from the original negatives and digitally restored for this publication ― over 100 glorious images of Floyd both on and off stage through the decades are included