News Roundup: Reminder, Letter and Vid!
Resources & Links
---
A few things are going on below that you may be interested in so I thought I would do a nice little news roundup story to inform those who don't know of these things already!
The BBCs Seven Ages of Rock series featuring Pink Floyd will be broadcast tomorrow (Saturday 26 May 2007) on BBC2 from 9:05pm and is repeated on BBC1 at 11:05pm on Sunday 27th. Read More or Discuss on Forum.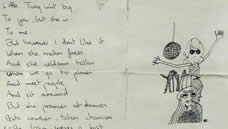 Cheffins Auctioneers are to auction off a Syd Barrett love poem he wrote in 1965!You can read more on the Brain Damage website or discuss it on the lovely NPF Forum!
And finally, you can pop over to David Gilmour's official website to watch a 5 minute preview video of his forthcoming DVD from his 2006 tour called Remember That Night. Go here to watch or discuss on the forum.
Sources: [ Various ]