Nick Mason attends First FAC Meeting
Links – Featured Artists Coalition official site | Discuss on Forum | Press Release PDF | BBC News Story
---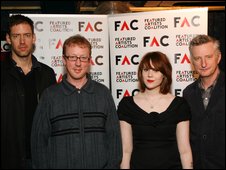 Pink Floyd drummer Nick Mason attended the first meeting of The Featured Artist Coalition in London on Wednesday 11th March 2009.  David Gilmour is also a member as previously reported.The organisation exists to protect the rights of artists.
Official Press Release
The Featured Artist Coalition (FAC) holds its first meeting in London today (Wednesday, 11th March). The Coalition's official formation marks a watershed in the music industry. For the first time, artists have a collective voice to campaign for effective laws and regulations, and for transparent and equitable business practices. The FAC will fight to ensure that interests of artists and fans – without whom the music industry would not exist – are not compromised by under the table deals between multi-national corporations.
Run by featured artists, for featured artists, from our fans the FAC asks for fair remuneration in exchange for widespread access; from the industry we ask for transparency in exchange for cooperation towards renewal and growth; and from government we seek support in our efforts to achieve these goals in return for a nationwide education programme that offers advice and mentoring to young artists.
The FAC's first board of directors are Blur's David Rowntree, Soul II Soul's Jazzie B, Billy Bragg, Radiohead's Ed O'Brien, Kate Nash, Marillion's Mark Kelly and Master Shortie. Further directors will be appointed in due course.
As well as the directors, among the artists expected to attend the meeting are David Gray, Annie Lennox, Nick Mason, KT Tunstall, Robbie Williams.
Commenting on the event, David Rowntree said: "The digital revolution has swept away the old music business of the 1960s, and changed forever the relationship between artists and fans. For companies who made their living sitting between the two, these are increasingly hard times, but for music makers and music fans this should be a fantastic opportunity.
"YouTube's row with the PRS is the most recent example of just how fast the music industry is changing. There has never been a greater need for the collective voice of featured artists, whose music generates 95% of revenue in the industry, to be properly heard.
"As this revolution gathers pace Featured Artists must seize the initiative. We are looking to forge a new deal, built on fairness, with our fans, the music industry and governments.
"To achieve this, we must own our future, take real control of our rights and genuinely work together. Acting alone, artists' voices will not be heard. Acting together, we can be a powerful force. Our rights are our power. By making ourselves heard and arguing for what's fair, we can help reshape the industry for the future so that it serves the interests of those who want to make new music as well as those who want to hear new music."
Source – [ FAC ]