Nick Mason @ Goodwin Park Festival of Speed
Links – Goodwin Park FOS Website | Sunday Times Article | Lots of Photos of Nick Mason and His cars | Discuss on NPF Forum
---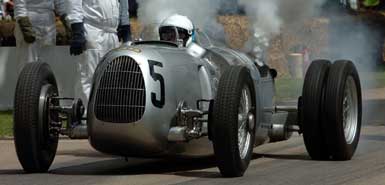 Nick Mason is to attend this years Festival of Speed at Goodwin Park in England, UK. The event takes place on 3rd, 4th and 5th July 2009. You can read more information on the Goodwin Park FOS Website.
Nick Mason said the following in a Sunday Times Article. Also, feel free to view Lots of Photos of Nick Mason and His cars.
The 1939 Auto Union D-type I'll be driving at the Festival of Speed is the third Auto Union model I've driven. I've been behind the wheel of the C-type and last year I drove an earlier D-type, but this year's car is different: while the other two were precise replicas designed and engineered by Crosthwaite & Gardiner, this one is a genuine original model — one of only five in existence.
This is a real thrill for me. Auto Union, for the uninitiated, is the forebear of today's Audi. The company made its name in the golden age of pre-war grand prix racing and, along with Mercedes, dominated the sport. Well, until Ross Brawn came onto the scene, that is. For racing fans, the idea of getting behind the wheel of a car from that time is pretty much as good as it gets.
Of course, despite the D-type's place in the car-maker's history, any similarity to a modern Audi is hard to discern. Once a D-type is running, the noise is terrific. These are quite big engines — 3-litre V12 with a supercharger — and the cars tend to have stub exhausts and no silencing of any sort. It does sound like a racing car, but of course big engines rev more slowly. The power will be heading towards 500bhp at about 3500rpm.
More than the power, though, it's the torque these engines generate that's unbelievable. You just get the car into as high a gear as you can and more or less leave it there. I was talking to John Watson, the former F1 driver, who has driven a Mercedes from the same period. He told me how he thought he'd broken the clutch; it transpired that he was getting wheelspin in fourth gear.
The brakes are not bad, but I suspect after a few hours of slowing a car like this down from 200mph they won't have much braking left. The steering isn't too heavy — once you get the car moving. The four-speed gearbox is a beautiful piece of German engineering.
Funnily enough, I think it would be far more intimidating to drive a modern F1 car, because there are so many things to concentrate on. Compared with the information a modern F1 driver has, there's very little to look at: a rev counter, an oil-pressure gauge, a temperature gauge and that's it. And there's definitely no speedometer — that would be far too frightening.
A couple of years ago I got a bit of tail-out action in the wet in the C-type. And I probably got it up to 100mph on the straight past Goodwood House. That was a replica. This year, in an original, which is probably one of the most valuable cars at the show (and there is some pretty stiff competition for that title) I think I will be taking things a lot easier. It would be truly horrific to damage the car — and not just from a financial point of view: I don't think I would ever forgive myself for damaging a piece of racing history.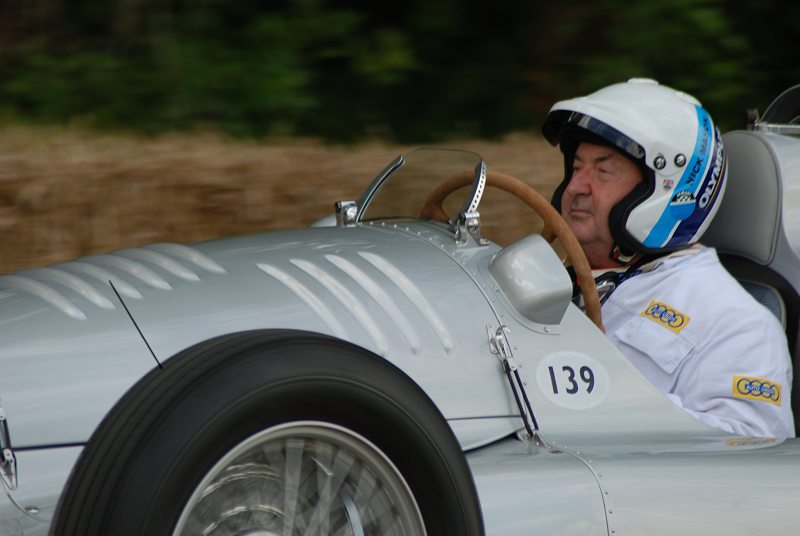 Source – [ Sunday Times & Goodwin Park website & Brain Damage ]