Nick Mason New Tour Dates Announced for Saucerful of Secrets Tour
A couple of new dates have just been announced for Nick Mason's Saucerful of Secrets Tour which is headed back out on the road following delays due to Covid.
The two new dates, announced on Nick's Official Facebook page, are in Thessaloniki and Athens on 3rd and 4th June 2022 in Greece. Tickets are on sale now here and here.
Sadly, the North American tour dates are still postponed until later in the year due to uncertainty over Covid. The new dates are being rescheduled and will be announced in due course. Ticket holders are advised to wait for the original ticket vendor to contact them regarding their tickets.
Who is in Nick Mason's Saucerful of Secrets Tour Band?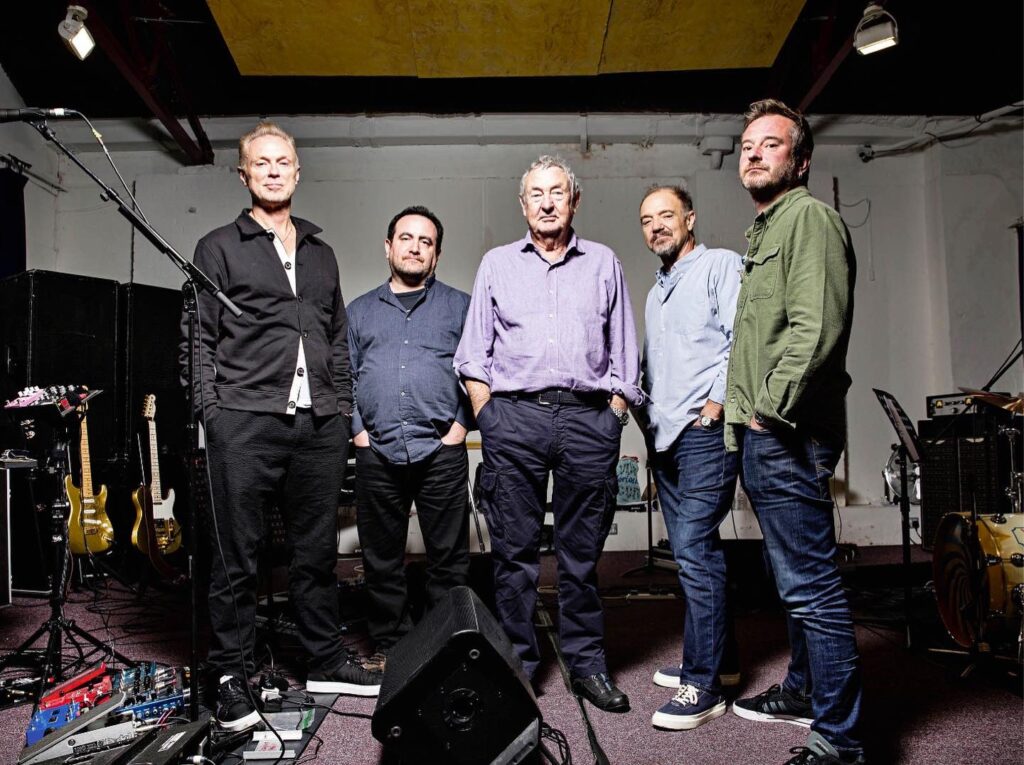 Other than Nick Mason (the drummer from Pink Floyd in case you didn't know, some people don't you know) there are loads of great chaps bringing the show to life. There is …
Gary Kemp – Guitar/Vocals – Spandau Ballet guitarist and songwriter and vocalist
Lee Harris – Guitars – Came up with the idea of putting the band together and use to play with the Blockheads. Great interview with Lee on Gilmourish.
Nick Mason – drums – co-founder of Pink Floyd and avid collector of cars
Guy Pratt – Bass – played with all the big names over the years and contributed a huge amount to Pink Floyd since Roger departed

Dom Beken – Keyboards

– BAFTA nominated composer, multi-instrumentalist and producer who creates music for video games, film and TV, commercial releases and remixes, check his site out for audio samples
Nick Mason Tour Dates
The tour kicks off in Ireland on 13th April 2022 at the Convention Centre in Dublin which I am sure will be a good craic. Below are all the known concert dates for Nick Mason and his awesome touring band. If you are going to watch a show, do let us know on the forum.
Ireland
13/04/2022 Convention Centre, Dublin
14/04/2022 Uslter Hall, Belfast

United Kingdom

16/04/2022 Barbican, York
18/04/2022 Philharmonic, Liverpool
19/04/2022 New Theatre, Oxford
20/04/2022 G Live, Guildford
22/04/2022 Symphony Hall, Birmingham
23/04/2022 Royal Albert Hall, London
24/04/2022 Regent, Ipswich
26/04/2022 Dome, Brighton
27/04/2022 St. David'S Hall, Cardiff
28/04/2022 Royal Concert Hall, Nottingham
30/04/2022 City Hall, Sheffield
01/05/2022 De Montfort Hall, Leicester
03/05/2022 O2 City Hall, Newcastle
04/05/2022 Usher Hall, Edinburgh
06/05/2022 O2 Apollo, Manchester
07/05/2022 Forum, Bath
08/05/2022 Plymouth Pavilions, Plymouth
10/05/2022 Guildhall, Portsmouth
11/05/2022 Fairfield Halls, Croydon
Europe

14/05/2022 Vaerket, Randers
16/05/2022 The Royal Theatre, Copenhagen
17/05/2022 Sentrum Scene, Oslo
19/05/2022 House Of Culture, Helsinki
21/05/2022 Alexela Hall, Tallinn
23/05/2022 Bkz Oktyabrsky, St. Petersburg
25/05/2022 Kremlin, Moscow
28/05/2022 Klub Wytwórnia, Lódz
30/05/2022 Budapest Park, Budapest
31/05/2022 Hall 9 @ Zagreb Trade Fair, Zagreb
01/06/2022 Belexpo Centar, Belgrade
03/06/2022 Dasous Theater, Thessaloniki
04/06/2022 Technopolis City Of Athens, Athens
06/06/2022 Istanbul, Vu Arena
08/06/2022 Ndk – National Palace Of Culture, Sofia
09/06/2022 Arenele Romane, Bucharest
11/06/2022 Gasometer, Vienna
12/06/2022 Forum, Prague
13/06/2022 Tempodrom, Berlin
15/06/2022 Den Atelier, Luxembourg
16/06/2022 Muziekgebouw, Eindhoven
17/06/2022 Cirque Royale, Brussels
19/06/2022 Meistersingerhalle, Nuremberg
20/06/2022 Jahrhunderthalle, Frankfurt
22/06/2022 Grand Rex, Paris
24/06/2022 Kkl, Lucerne
25/06/2022 Piazza Napoleone, Lucca
26/06/2022 Stupinigi Sonic Park, Turin
28/06/2022 Geneva, Theatre De Leman
30/06/2022 Stuttgart, Leiederhalle Beethoven-Saal
01/07/2022 Hamburg, Laeiszhalle
02/07/2022 Bad Honnef, Inseln Grafenwerth
04/07/2022 Munich, Circus Krone
05/07/2022 Leipzig, Haus-Auensee
06/07/2022 Munster, Halle Munsterland
09/07/2022 Barts, Barcelona
10/07/2022 Vistalegre Arena, Madrid
12/07/2022 Super Bock Arena, Porto
13/07/2022 Campo Pequeno, Lisbon