Nick Mason Virgin Radio Special!
Resources & Links
Virgin Radio | Roger's Hyde Park Photos | /Discuss
---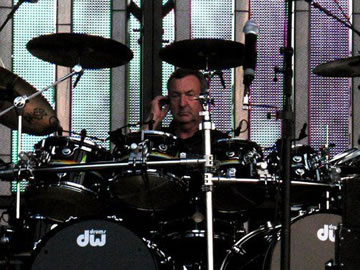 Nick Mason at Hyde Park with Roger Waters. (Photo: Sertan)
Pink Floyd's drummer Nick Mason is to appear on Virgin Radio in the UK on a one hour documentary concerning all things Floyd. It will be broadcast on 18th July 2006 at 8pm British Summer Time (GMT+1).
Given the recent flurry of activity of the Pulse DVD release, Nick playing gigs with Roger Waters and David Gilmour combined with the recent media interviews in which Nick (article) and Pink Floyd's keyboardist Richard Wright (article) have made it known they would like to do something with the Pink Floyd again, it is certainly an interview not to be missed by any Floyd, Gilmour and/or Waters fan!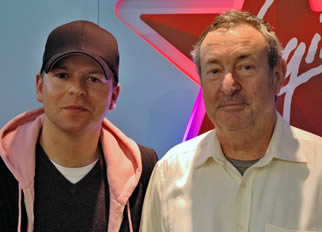 Nick Mason (right) with Ben Jones from Virgin Radio
How To Listen
Virgin Radio want to make it difficult for people not to listen to their station so below is a list of ways you can tune in!
DAB Digital Radio across the UK
105.8FM in London and the South East
Sky Digital: channel 0107
1215AM/MW across the UK
Telewest Active Digital: channel 915
ntl: digital cable: channel 892
HomeChoice: channel 620
WightCable:

SW Scotland / NW England: channel 851
Isle of Wight: Audio ch. 9

WorldSpace satellite media network
Naturally I will be recording the broadcast digitally and could possibly make it available for download.
Sources: [ Brain Damage, Virgin Radio ]