Nick Mason's Book Update
Resources & Links
Order Here |  High Resolution photo of chair | Low Res | Close-up of ladies on chair!
"As Nick Mason's long awaited book Inside Out – A Personal History of Pink Floyd release gets closer a few more details are being released. The book will feature a Storm Thorgerson designed cover, which has a huge chair with graphics associated with Pink Floyd all over it. The design was nearly used by Pink Floyd in the past to promote their 30th Anniversary campaign but as Storm says, "Owing to a monumental cock-up over remastering the music, the records didn't get released on time and the campaign died, our beloved chair with it." The actual chair is life size and the three ladies you see sat on the chair are real.
The book will be released on 9th September 2004. The book was due for release in 1995 but was shelved after objections from David Gilmour. Nick was always the one band member who collected and archived the bands history and the book will reveal many previously unseen photos and memorabilia. In 1993 the task of compiling the book became so great, Nick actually employed an archivist who helped log material for 2 years in preparation for its original release." – RWO
The recommended retail price is £30 (USD $55 or 45 Euros) but you can order it now from Amazon at a reduced price of £18 (USD $38 or 32 Euros). Pre-order here to guarantee your copy and save £9!
You can order with a credit/debit card in any currency even though GBP is not your normal currency.
UPDATE – 22 June 2004
:: Book Contents ::
Introduction
1. Poly Days
2. Going Underground
3. Freak Out Schmeak Out, 4. Sum of Parts
5. Tempo Changes
6. Dark Side,
7. Hard Labour,
8. Balloon
9. The Wall
10. Comms Failure
11. Resurrection
12. Wiser After the Event, Chronology
Bibliography
Index
---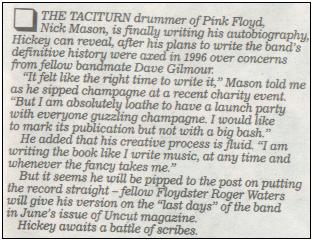 THE TACITURN drummer of Pink Floyd, Nick Mason, is finally writing his autobiography, Hickey can reveal, after his plans to write the band's definitive were axed in 1996 over concerns from fellow band mate David Gilmour.
"It felt like like the right time to write it," Mason told me as he sipped champagne at a recent charity event. "But I am absolutely loathe to have a launch party with everyone guzzling champagne. I would like to mark its publication but not with a big bash."
He added that his creative process is fluid. "I am writing the book like I write music, at any time and whenever the fancy takes me."
But it seems he will be pipped to the post on putting the record straight – fellow Floydster Roger Waters will give his version on the "last days" of the band in June's issue of Uncut Magazine.
Hickey awaits a battle of scribes.
Source: [ RWO ]