NME: Syd Barrett Tribute Issue
Resources & Links
NME Website | Hi Res Front Cover of NME | Subscribe To NME – First 8 Issues For Only £1!! |
---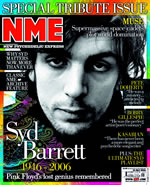 Britain's popular music magazine New Musical Express (NME) have a special edition out for the week commencing 22 July 2006.
The issue includes a piece on the news of his death and its
effect on the rest of the floyd, a brief history of his life, comments and memories from other musicians, fan tributes, a list of tracks inspired by Syd, and the highlights of Nick Kent's 1974 NME piece on Syd, seen as the "definitive article" on the crazy diamond.
How To Obtain Your Copy
The NME can be bought from all good newsagents across the UK.
You can also subscribe to the NME and it will be posted internationally. The first 8 issues will cost you only £1!!! After that, you can cancel your direct debit if you don't like it! It costs £24.86 every three months after the first 8 issues if you don't cancel. Subscriptions from here.
You can also register for free to view the NME website here. Good site for new and often disposable bands.
Sources: [ Charlie at NME ]