On An Island Re-Release – USA/UK DVDs
---

As previously reported, David Gilmour's third solo album On An Island is to be re-released along with a free bonus DVD. There are going to be two versions of the DVD: one for the American market from Sony BMG and one for the European Market from EMI.
The difference is that that European/EMI one has an extra video on the bonus DVD and has been re-packaged! The American verion has the bonus DVD shrinkwrapped to the original CD release.
Instore dates have gone back a week from previously advised, to: Europe – Monday 27th November; the rest of the world – Tuesday 28th November.
UK/Europe Version from EMI – (27th Nov 2006)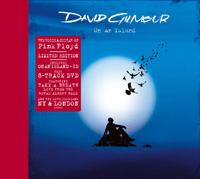 In Europe, via EMI, there will be the original album package in book form, with the DVD mounted on a circular tab inside the front cover. The cloth has a natty dark red colour with foil-blocked silver lettering, plus a red sticker advising the contents.
DVD Contents
1. Take A Breath (live from the Royal Albert Hall)
2. Astronomy Domine (live at Abbey Road)
and from the AOL Sessions, New York:
3. On An Island
4. This Heaven
5. Smile
6. Take A Breath
7. High Hopes
8. Comfortably Numb
American Version from SonyBMG – (28th Nov 2006)
In North America, via SonyBMG, the original album package will stay the same, with the DVD in a card wallet shrinkwrapped to the back of the album sleeve.
DVD Contents
1. On An Island
2. This Heaven
3. Smile
4. Take A Breath
5. High Hopes
6. Comfortably Numb
7. Astronomy Domine
American Press Release for Re-Release
On An Island is the third David Gilmour album and his first studio recording since Pink Floyd's 1994 multi-platinum The Division Bell. From the moments of the sound collage that begins On An Island, you know it's a special experience that not only bears comparison with the best of Pink Floyd, but also confirms their lead guitarist and singer as an outstanding solo artist. Here he reveals a personal vision and a breadth of styles – folk, jazz, orchestral and rock – brought together as a unified piece by lyrical guitar playing and instantly recognizable voice.
With orchestrations by the renowned Polish composer Zbigniew Preisner and a luminous production (assisted by Roxy Music's Phil Manzanera), there is virtuosity aplenty. Crosby and Nash sing harmonies, Robert Wyatt plays the cornet, Caroline Dale the cello and Alasdair Molloy the glass harmonica. Pink Floyd's Richard Wright guests on Hammond organ, while Gilmour sweeps and soars with often soul-piercing guitar and vocals. Yet the album never becomes grandiose. At it's heart, it remains, a reflective piece, not least because of the lyrics.
Although Gilmour takes some writing credits, most go to writer Polly Samson, continuing a collaborative partnership that began with the Division Bell. The songs tell of shared experiences that evoke a breadth of moods, from the hauntingly beautiful title track "On An Island" (with a guitar performance set to enter the Gilmour canon of classics) to the meditative "The Blue" and "A Pocketful of Stones," as well as the heavier rock and blues numbers "Take A Breath" and "This Heaven." In the spirit of intimacy, this album sees the debut of Gilmour on the saxophone, as well as contributions by contemporaries from his pre-Floyd days.
On An Island is a collection of songs and instruments that had its genus in the critically acclaimed 2002 London Festival Hall concerts. Gilmour has stepped out of his super-group to discover he's still at his peak – and he's rightly pleased. 'Its my best and most personal work,' he says. 'Making it with my musician friends has been a positive experience on so many levels.' And touring it this spring can only take him to a new high.
The ten tracks on the album, which has been produced by David Gilmour, Phil Manzanera and Chris Thomas, are:
1. Castellorizon
2. On An Island
3. The Blue
4. Take a Breath
5. Red Sky At Night
6. This Heaven
7. Then I Close My Eyes
8. Smile
9. A Pocketful of Stones
10. Where We Start
DVD content below:
David Gilmour On An Island CD now available with bonus DVD – a must have for fans!
Now fans can own David Gilmour's electrifying live AOL Sessions performance including:
1. On An Island
2. This Heaven
3. Smile
4. Take A Breath
5. High Hopes
6. Comfortably Numb
7. Astronomy Domine
Plus, "Take A Breath" from Royal Albert Hall.

Sources: [ Electric Artists & DavidGilmour.com ]