Pink Floyd & Roger Waters Honorary Gig!
Resources & Links
BBC News Story | Brain Damage Story | Discuss On Forum
Downlaods – Official Concert Programme (PDF 0.3MB) – Youtube Videos – Bike and Arnold Layne
---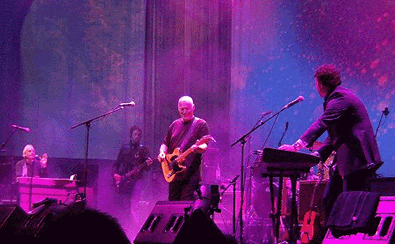 Above: Gilmour, Mason and Wright. Watch Bike and Arnold Layne videos.
Pink Floyd's stars have performed at a concert in honour of their ex-bandmate Syd Barrett, who died last year – but stopped short of a full reunion.
Roger Waters and David Gilmour, who famously fell out more than 25 years ago, appeared separately at the tribute gig at London's Barbican Centre.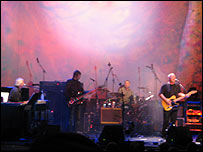 Gilmour was joined by original drummer Nick Mason and keyboard player Rick Wright, while Waters played solo.
Damon Albarn, Chrissie Hynde and Robyn Hitchcock also performed Barrett songs.
The guitarist was the band's first creative force and an influential songwriter, writing their early favourites.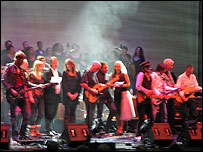 David Gilmour led the other artists in a grand finale
Gilmour, Mason and Wright performed Arnold Layne, the group's first hit and one of Barrett's best-known works.
They then took part in a finale performance of Bike, from the band's debut album, featuring all the night's performers – except Waters.
Waters, a former schoolfriend of Barrett with whom he formed the band in 1965, played his own song Flickering Flame before the interval.
The musician, who is playing at Earls Court on Friday and Saturday, said he found smaller shows "more frightening" because he had a "sense of shame" – which Barrett did not suffer from.
Creative risks
"Before the illness, he kinda lived his life like he walked," the star told the crowd. "I think it's because of his lack of a sense of shame that he was able to take all the creative risks he did."
The "illness" was a mental deterioration blamed on heavy drug use, which led to Barrett leaving the band in 1968 and living most of the rest of his life as a recluse.
"Without Syd, I don't know what I'd be doing – I'd probably be a property developer or something," Waters added.
The Pink Floyd band members had not been announced on the line-up and received an ecstatic welcome from the devoted crowd.
When Gilmour, Mason and Wright appeared at the show's climax, some fans shouted "where's Roger?" and "Pink Floyd" – but those hoping for the classic line-up were disappointed.
The quartet have only buried their differences and performed together once since 1981 – after being on the receiving end of Bob Geldof's famously forceful powers of persuasion for Live 8 in 2005.
But the night was intended to be about Barrett rather than Gilmour and Waters.
Nephew's thanks
Damon Albarn performed a song from the guitarist's solo album Opel – a list of spoken words that the Blur and Gorillaz frontman described as "early rap".
Albarn also persuaded Barrett's nephew Ian to speak on stage. Referring to his uncle's real name Roger, he said: "I'm sure Rog is up there somewhere.
"Just thanks – I've got so much to thank him for."
Martha Wainwright, Kate McGarrigle and her niece Lily Lanken gave one of the evening's most touching performances, playing See Emily Play, which reached number six in the UK 1967.
Thursday's line-up also included Led Zeppelin's John Paul Jones plus Kevin Ayers, whose band Soft Machine often performed with Pink Floyd in the 1960s.
Chrissie Hynde played two songs from Barrett's The Madcap Laughs album, while The Incredible String Band's Mike Heron, Captain Sensible and Oasis bassist Andy Bell also appeared.
The performers played in front of psychedelic visuals put together by the people who created Pink Floyd's legendary light shows on swinging London's underground scene.
The concert was curated by Pink Floyd collaborator Nick Laird-Clowes and Joe Boyd, who produced the band's early records.
'Important' songwriter

Listening to Barrett's solo albums was a reminder of "what a great songwriter he was and how important he was to British culture", Boyd said.
"Syd's musical vision was a one-off that defined the mood and sound of psychedelic London 1966-67," he told the BBC News website.
"His legacy is more abstract, since the biggest Floyd albums don't include his songs. But his influence is felt not only in everything the Floyd ever did, but also via very British artists as diverse as Bowie to Cocker and so many more."
Barrett died in July at the age of 60 from complications arising from diabetes.
Sources: [ BBC News ]