Pink Floyd Accept UK Music Award
Resources & Links
Channel 4 | Download – Greatest Gigs (Floyd Segment) | Download – The Ceremony (Floyd Acccepting)
---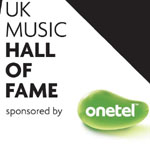 Download: World's Greatest Gigs DVD Video – The Wall Segment – Download Page
Download: Pink Floyd accepting award
Pink Floyd have now been inducted into the UK Music Hall Of Fame and presented with their award by Pete Townsend.
David Gilmour and Nick Mason were at the event and Roger Waters made an appearance from Italy via video link. Ric Wright was not present as he is having an operation on his eye.
Roger Waters seemed to take offence at Davids's comment about Roger being a "passenger" on the "fabuous ride" that is Pink Floyd.
Download
You can download the Pink Floyd part of the awards ceremony on this page.
Transcript
DG: Well, there's only two of us tonight. Rick's erm… I think he's in hospital. He's just had an eye operation, poor sausage! And, Roger's opening his opera tomorrow night I think in Rome. I think he's… oh, there he is…. <Roger appears on big video screen>
NM: Scary….
DG: …to which we wish him the best of luck. <applause> And erm… to all the er… passengers on this fabulous ride we've been on erm including Syd, Roger, Michael, Steve O'Rourke, Tony Hudd and all those other people who have slipped off our tour bus at one point or another… cheers for them too.
NM: Are we going to have a word from Roger?
RW: You can have one, or even two, or three or four! I confess I never felt like a passenger but, not withstanding that, I am sorry I cant be here, er there tonight, erm.. All those eulogies were rather unnerving but I have to say very touching and er the response that we've have had over the years from our public is very moving, and not least when we were all together that day in July er this year…..er which was fantastic er for us…. and erm to revisit it then and seeing those scenes from it reminded me of how great that was all to be together again.
Rick actually hasn't had an eye operation….he and I have eloped to Rome and we are living happily in a small apartment off the [Via Venuti]! Be that as it may, I thank you very much for this. It means a lot to me and thank you very much everybody. <applause>.
NM: And thank you from me as well its erm.. can i have a go with it? Yeah, it is something to make up for nearly 40 year of having to listening to bad drummer jokes. I think. Although there is just one that I actually heard today that I thought…. yeah actually that sort of sums it up really. Its a small boy who says to his mother, "When I grow up, I am going to be a drummer". His mother laughs and looks at him pityingly and says, "You cant do both"!
DG: Well done, Nick! You did your best!
Source: [ Channel 4 ]