Pink Floyd iTunes App – This Day In Music
Links – This Day in Pink Floyd on iTunes | Tell us if you like the app | Latest Pink Floyd News on Facebook
---
Pink Floyd teamed up with music history website This Day in Music to create a new iTunes App for use on your iPhone or iPad called This Day in Pink Floyd.
The application has been available since 14th November 2011 on iTunes priced £1.99. There should be an Android version next year if you are not part of the evil Apple Empire!
The application – a program that runs on your iphone or iPad – is designed to bring you closer to the band, and contains thousands of music facts covering 366 days of the year, a guide to every one of the 167 studio tracks the band officially released, as well as more than 100 Pink Floyd images, over 200 quiz questions, over 200 items of trivia, the rarely-seen, newly-restored video of Floyd's 1968 single 'Point Me At The Sky', a free ringtone ('Shine On You Crazy Diamond'), and two wallpaper screen images (the 'Dark Side' prism and the 'Wish You Were Here' cover).
If you are in to your apps then you may want to get this one and let us all know what you think of it. Looks like it could be fun and probably worth £1.99 although it does seem a bit chunky weighing in at a whopping 95.7mb in size! Perhaps make sure you have enough space on your phone before parting with your hard earned cash for this one. Feel free to ask questions about the app/your phone on our forum.
Here are some screen shots below of This Day in Pink Floyd iTines App.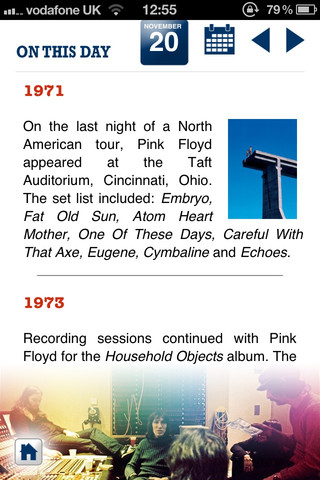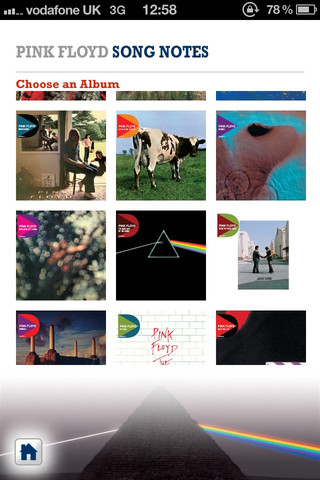 Source [ Pink Floyd / iTunes ]