Pink Floyd in Record Store Day Event 2020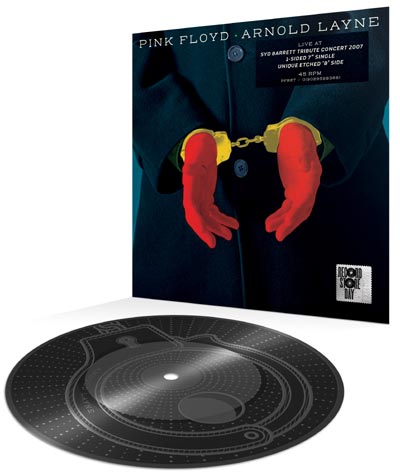 Record Store Day is a way for artists to support independent record stores and Pink Floyd has been participating for some time as many of you will know.
To celebrate Record Store Day 2020, Pink Floyd will release a live recording of the band's first single, and Syd Barrett's best-known song, Arnold Layne, via participating stores. Pink Floyd Records has supported Record Store Day since the label's launch in June 2016, so this release is slightly different from the version that appeared in the recent The Later Years box set.
The limited-edition, one-sided Record Store Day 7″ vinyl single boasts new artwork for the release featuring a person caught 'red-handed' in handcuffs. Pink Floyd Creative Director Aubrey Powell oversaw the sleeve, newly created by long-time Floyd collaborators, photographer Rupert Truman and designer Peter Curzon, both of StormStudios. New art extends to the B-side of the single, which features a new and exclusive etching of handcuffs to echo the sleeve and the song's lyrics.
The single represents the last live performance of Pink Floyd with David Gilmour, Nick Mason and Richard Wright all together in 2007, from the Syd Barrett tribute concert The Madcap's Last Laugh, at The Barbican Theatre, London, on 10 May 2007. The Pink Floyd members were augmented by Jon Carin (Keyboards, vocals) and Andy Bell from Oasis on bass guitar. Held to pay homage to Syd, who had died a year earlier, the concert, produced by Nick Laird-Clowes with Associate Producer Joe Boyd, sadly featured the final performance of the band to include Richard Wright, who passed away the year after.
Record Store Day has become a landmark occasion for thousands of independent record shops around the world, involving special exclusive vinyl releases, while many shops and cities host artist performances and events to mark the occasion.
With the Covid-19 disease still affecting countries around the world, the April event has been pushed back to August 2020 and there will be details announced soon.
A new version of "The List" with assigned release dates will be launched on 1st June and updates will be found on recordstoreday.co.uk and the RSD social media accounts. You can find the participating UK record stores here.