Pink Floyd Items in Christies Pop Culture Auction
Links – Christies Pop Culture eCatalogue
---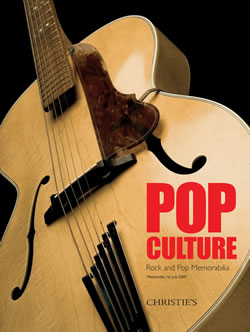 Christies Auction House of London is having an impressive Pop Culture auction which is to be held from 2pm on 1st July 2009.  It features items for all over the pop world with an extensive Beatles collection but, of particular interest, are 5 lots regarding Pink Floyd.  The lots include:
Lot 17 – Christmas On Earth Continued handbill – the 22 December 1967 show including Jimi Hendrix, Pink Floyd, The Who, and others. Estimate £500-700
Lot 29 – International Times UFO concert poster, advertising two nights: Jan 13th and 20th, both headlined by Pink Floyd. Est. £800-1,200
Lot 30 – Michael English UFO concert poster advertising three nights at UFO – Feb 27th (PF), March 3rd (Soft Machine), and March 10th (PF again). Est. £800-1,200
Lot 31 – Very rare King of Clubs concert poster, Hull Art College, June 9th 1967. Est. £600-800
Lot 32 – Jill Furmanovsky's iconic photo of David Gilmour, The Wall concerts, New York 1980; signed Iris AP1 print. Est. £1,500-2,000
Have a look at the Christies Pop Culture eCatalogue.
Source – [ Christies & Brain Damage ]