Pink Floyd on Cover of Uncut Magazine
Resources & Links
Uncut Website | Brain Damage Online Magazine | Hi Res Scans of Mag
---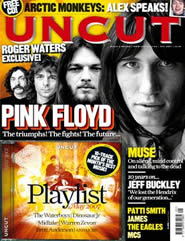 Pink Floyd Uncut magazine article. The latest issue of UK magazine Uncut has a nine page feature article about Pink Floyd with an exclusive and brand new interview with Roger Waters!
Roger speaks of wanting to rejoin his old bandmates, providing he can be boss again! Some things never change!
He's asked a lot of searching questions and reveals a lot in his answers including stuff about the Floyd, rewriting The Wall for Broadway, his new songs and what the future holds after the current tour finishes.
The article is splattered with a fine array of current and archive photos plus there is also the opportunity to win tickets to see Roger performing Dark Side of the Moon at any of his UK concerts.
Elsewhere in the mag is a pictorial feature about the Eagles and features on Matt Bellamy from Muse, 'Psych' artists, The Grateful Dead, and that great new band Midlake along with a massive amount of music and DVD reviews.
There is also a free cover-mounted CD featuring 16 tracks from a wealth of artists including Warren Zevon, Midlake, Low and The Waterboys amongst others.
Uncut can be bought from most UK magazine retailers, and is also available in selected countries as an import.