Pink Floyd To Play Live 8 With Waters!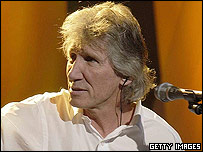 Pink Floyd will be joined by Roger Waters to perform at the Live 8 concert in London's Hyde Park on 2nd July 2005 to help raise awareness for the need to cancel Africa's debt.
The fantastic news has been confirmed by Pink Floyd's management and is on the Pink Floyd website.
Tickets are free and you can enter the draw to win a pair by texting the letter c to 84599. It will cost you £1.50 plus your operator charge. The deadline is tonight (12th June 2005) at midnight so get texting! The draw takes place on 13th June.
From Reuters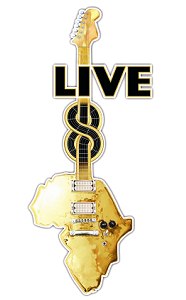 LONDON, June 12 (Reuters) – Four members of seminal British rock band Pink Floyd will play together for the first time in 24 years at London's Live 8 charity concert for Africa on July 2, publicists for the event said on Sunday.
Guitarist David Gilmour, drummer Nick Mason and keyboard player Richard Wright will be on stage with bassist Roger Waters for their first public performance since they played at London's Earls Court in 1981.
The rock legends will join a star-studded line-up including Coldplay, Elton John and Paul McCartney at the Live 8 concert in Hyde Park, organised by activist rocker Bob Geldof to pressure rich nations to ease African poverty.
"Like most people I want to do everything I can to persuade the G8 leaders to make huge commitments to the relief of poverty and increased aid to the third world," said Gilmour.
"Any squabbles Roger and the band have had in the past are so petty in this context, and if reforming for this concert will help focus attention then it's got to be worthwhile."
The band released their first album "The Piper at the Gates of Dawn" in 1967 and broke records with 1973's "The Dark Side Of The Moon", which remained in the American album charts for more than a decade.
In the 1980s relations between Waters and the rest of the group soured, with Waters suing over the rights to the Pink Floyd name.
Gilmore, Mason and Wright continued to record and tour as Pink Floyd, releasing their last studio album "The Division Bell" in 1994.
From BBC
Veteran rock band Pink Floyd have been added to the list of acts appearing at next month's Live 8 concert in London.
Roger Waters will be reunited with band-members Dave Gilmour, Nick Mason and Rick Wright for the show.
The show, organised by Bob Geldof and Midge Ure to help fight African poverty, is one of five taking place around the world on July 2.
Meanwhile, pop fans have until midnight to apply for tickets for the concert at Hyde Park.
People wanting tickets have to text the answer to a multi-choice question to be in with a chance of winning one of 75,000 pairs of tickets.
The winning tickets will be drawn at random by computer.
Scottish concert
The concert is an attempt to put pressure on the G8 industrialised countries to forgive African debt and increase aid budgets.
Entrants aged 16 and over must send the answer to a multiple choice question to 84599 before midnight on Sunday.
The question is: Which city is nearest to the G8 summit in July? A) Berlin, B) Moscow, C) Edinburgh. Entries are £1.50 plus the usual text message charge.
Organisers also recently announced a concert in Edinburgh on 6 July, which will feature a line-up including Travis, Snow Patrol and Dido.
Source: [ BBC News ]