Pink Floyd UK Music Hall of Fame 2005
Resources & Links
Channel 4 | Download – Greatest Gigs (Floyd Segment)
---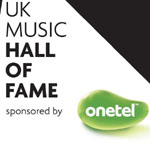 Download: World's Greatest Gigs DVD Video – The Wall Segment – Download Page
Pink Floyd are to be inducted into the UK Music Hall of Fame (2005) in a ceremony to be held at Alexandra Palace in London on Thursday 17th November 2005.
The ceremony will be broadcast by Channel 4 (England, UK) at 9pm on Thursday 17th November.
Although Pink Floyd will not be performing live, it has been reported that some members will be present.
Roger Waters was due to join the band at the event but he has commitments with his Ca Ira opera in Italy and he has chosen to focus on that instead.
Channel 4 have broadcast a series of highly watchable TV Programs as detailed below.
The Programs So Far…
Sunday November 6, 8:00pm
Hall Of Fame: Introduction
Easing you gently into the Hall Of Fame season is Dermot O'Leary and a big list of pop stars. More specifically, those pop stars who have sold the most records this millennium. Crivens! This three and a half hour extravaganza will count down the biggest selling albums since 2000. Who'll swipe the number one spot? We're keeping our fingers crossed for Lorraine, Love Bites and The Modern.
Monday November 7, 11:00pm
Who Killed Brian Jones?
Documentary exploring the spooky, unexplained death of the Rolling Stones' Brian Jones. Just three weeks after being sacked from one of the biggest bands in the world, poor Bri was found dead at the bottom of his swimming pool, and the precise cause of his death has remained a mystery. This programme sheds new light on the tragedy and features interviews with key witnesses.
Tuesday November 8, 11:05pm
Madonna: Who's That Girl?
Another chance to see this rather splendid Madge documentary which charts her career from when she was nowt but an urchin in fingerless gloves to her current status as most amazing lady pop star evah. Not to be missed.
Wednesday November 9, 11:05pm
World's Greatest Gigs
Everyone has a favourite gig – whether you still get teary-eyed every time you rememeber the evening when the local one man band got a standing ovation at the Dog & Duck, or you were lucky enough to be squished against the barriers at Live 8. But which gigs are the stuff of legends? This programme will tell you, featuring footage from the 20 greatest rock concerts of all time. Were you there? Well, were you? Followed by Jimi Hendrix – The Road To Woodstock, showing the snake-hipped guitar legend's most notorious onstage moment.
Thursday November 10, 11:40pm
The Who: Behind 'Who's Next'
This documentary does exactly what it says on the tin: The Who cast their minds back to the good old days and tell the story behind their 'Who's Next' album. Imagine! Featuring hair, nostalgia and previously unseen perfomances of album tracks aplenty.
Monday November 14, 11:00pm
John Peel's Record Collection
While the much-missed Peelie had a record collection encompassing over 100,000 records, CDs and singles, he had a soft spot for certain songs in particular, carrying 140 with him at all times! Blimey. This documentary looks at those very records and the artists which inspired one of the most influential DJs of all time.
Tuesday November 15, 11:05pm
Is This The Real Life? The Queen Story
The story of the world-conquering rock band from their early long-haired, spandex-wearing, opera-singing days to the tragic death of their flamboyant frontman, Freddie Mercury, in 1991. Possibly including that bit from 'Wayne's World' where they all sing 'Bohemian Rhapsody' in the car.
Wednesday November 16, 11:05pm
Vertigo 2005: U2 Live In Chicago
Fancy seeing Bono strut his leather-clad 'stuff' on stage in the windy city? Look no further! See the pint-sized Irish rock god warble his way through U2's biggest hits while the band's sound system, video screen and lighting rig use up more electricity than it would take to power the world for a year. Or something.
Thursday November 17, 9:00pm
UK Music Hall Of Fame Induction
The season concludes with the ceremony itself, introduced by Dermot O'Leary. Which pop and rock stars have been brain-bendingly amazing enough to be allowed into the Hall Of Fame? Well, there's Bob Dylan, Jimi Hendrix, Pink Floyd and New Order for starters. And some other people too. We forget. But the important thing is that the ceremony will be utterly star-studded and brilliant, and will have pop stars performing great stuff all over the shop. Hurrah! Completely unmissable by anyone's reckoning.
Source: [ Channel 4 ]