Pink Floyd's Pulse London Screening
Resources & Links
XFM Article | Discuss on Forum | Purchase: Amazon (UK & Europe) or Amazon (USA and World) | View Pulse Player | Photos from Event
---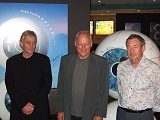 Last night, London's Vue Cinema in Leicester Square was the host to the official launch of Pink Floyd's PULSE DVD.
David Gilmour, Richard Wright and Nick Mason attended with their families. The screening – a special edit of the Pulse DVDs – was followed by a rare Q&A session with the audience in wich they spoke of Live 8, the thrill of playing live and other issues.
You can read a news feature on XFM Radio's website concerning the Q&A session here.
Additionally, XFM will be broadcasting a program this evening called Music Response on 104.9 FM from 8.30 tonight in which you can hear more of what was said in the Q&S session. This will also be available on DAB, Sky Digital etc.
You may also want to view some photos from the event.
Edit: you can now download the audio of the Xfm broadcast from here. Additionally, you may want to visit the Brain Damage website (story here) as they actually went along to the screening!!
Source: [ Rebecca at XFM ]