Piper At The Gates 40th Anniversary Edition
Resources & Links
Pink Floyd Official Site | Discuss on Forum
---
As posted on Pink Floyd's official website…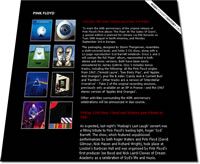 To mark the 40th anniversary of the original release of Pink Floyd's first album 'The Piper At The Gates Of Dawn', a special edition is planned for release via EMI Records on Tues 28th August in North America, and Monday September 3rd in Europe.
The packaging, designed by Storm Thorgerson, resembles a cloth-covered book, and holds 3 CD discs, along with a 12-page reproduction Syd Barrett notebook.
CD Contents
Discs 1 and 2 will contain the full 'Piper' album, represented in both stereo and mono versions. Both have been newly remastered by James Guthrie.

Disc 3 includes bonus tracks, including the following: all the Pink Floyd singles from 1967, ('Arnold Layne', 'See Emily Play', and 'Apples And Oranges'), plus the B sides 'Candy And A Current Bun' and 'Paintbox'.
Other tracks are a version of 'Interstellar Overdrive' – Take 2 of the original recording sessions, previously only available on an EP in France – and the 1967 stereo version of 'Apples And Oranges'.
Other activities surrounding the 40th anniversary celebrations will be announced in due course.
Make sure you are subscribed to the free and informative NPF Newsletter to get more details as they become available!
Sources: [ Pink Floyd Official Site ]