PULSE DVD New Release Date
The 2DVD set "PULSE" now has a release date of 18th September 2006. It would seem that the delay is because of technical difficulties in the synching of the audio and the video. They want it to be perfect so that is why we are waiting…. and waiting…. and waiting…. and waiting……….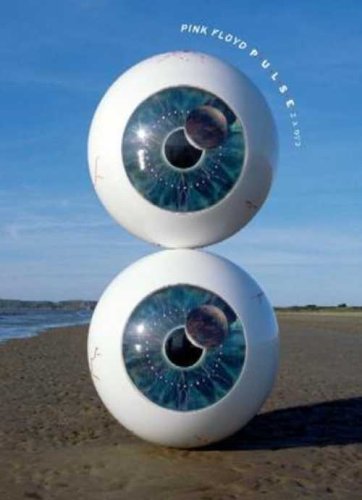 EMI Press Release, October 4, 2005
PINK FLOYD RELEASE PULSE
THE DVD OF THEIR LAST EVER CONCERT
5 DECEMBER 2005
On 5 December 2005, Pink Floyd will release their much anticipated DVD, PULSE, on EMI Records. This landmark release captures the last ever Pink Floyd tour in 1994, and was filmed at London's Earls Court, on one of the record breaking 14 nights there. The two disc release contains a full concert performance from Pink Floyd's 80 date global Division Bell tour, with rare backstage footage and previously unseen extras.
Pink Floyd are a band whose innovative and groundbreaking music is matched by the startling imagery created by longtime design collaborator, Storm Thorgerson. The Pulse DVD looks as good as it sounds, mixed in mind expanding 5.1 surround sound and digitally remastered by James Guthrie, it includes a magical collection of exclusive extras, new artwork and menu graphics designed by Thorgerson.
The concert is in two parts, the first half sees seminal performances by David Gilmour, Nick Mason and Richard Wright of tracks such as Shine on You Crazy Diamond, Another Brick in the Wall (Part 2), One of These Days and Keep Talking, while disc two features the classic album The Dark Side of the Moon performed in its entirety.
Never before seen rarities include Bootlegging the Bootleggers, behind the scenes footage showing a snapshot of life on the road with one of the world's biggest rock bands and a screen film of Speak to Me.
The Pulse DVD captures Pink Floyd's final concert tour, although no-one knew it to be at the time. It was the last concert they played together live, and their show-stopping appearance at this year's Live 8, confirmed their legendary status.
PULSE PRODUCT DETAILS
Title – Pulse
Release Date – 5 December 2005
Running Time – Over 3 hours
Technical Details – Speaker ID, Pink Noise inc 'Audio Setup' Dolby Digital 5.1 448 kbps, Dolby Digital 5.1 640 kbps. Stereo
Tracklisting Disc 1
Concert Part 1:
– Shine On
– Learning To Fly
– High Hopes
– Take It Back
– Coming Back To Life
– Sorrow
– Keep Talking
– Another Brick In The Wall Pt 2
– One of These Days
Screen Films:
– Shine On
– High Hopes
– Learning to Fly
Bootlegging the Bootleggers:
– What Do You Want From Me
– On The Turning Way
– Poles Apart
– Marooned
Shorts:
– Time (Eames)
– Money (Alien)
– Speak To Me 1987
– Pulse TV Advert
Videos:
– Learning To Fly
– Take It Back
Tracklisting Disc 2
Concert Part 2:
– Speak To Me
– Breathe
– On The Run
– Time
– The Great Gig In The Sky
– Money
– Us And Them
– Brain Damage
– Eclipse
– Wish You Were Here
– Comfortably Numb
– Run Like Hell
Screen Films:
– Speak To Me (graphic)
– On The Run
– Time 1994
– The Great Gig in the Sky (wave)
– Money
– Us And Them 1987
– Brain Damage
– Eclipse
Alternate Screen Films:
– The Great Gig In The Sky (animation)
– Us And Them 1994
Behind the Scenes Footage:
– Goodbye to Life As We Know It
Wish You Were Here:
– Rock and Roll Hall of Fame Induction Ceremony
Photo Gallery
Source: [ Brain Damage ]