PULSE DVD Released 10th July 2006 UK
Resources & Links
Purchase: Amazon (UK & Europe) or Amazon (USA and World) | Previous Story with Press Release | Pink Floyd 1994 Tour Dates | Tour Photos | /Discuss on Forum
---
It has been confirmed to Brain Damage Magazine by Pink Floyd's Management that the long awaited and much anticipated PULSE DVDs will be released in the UK and Europe on 10th July 2006 and 11th for USA and Worldwide!
The 2 DVD set was last said (link) to have a release date of 18th September 2006 but has now been brought forward. The delay has been due to technical difficulties and modifications to the content as previously reported.
PULSE was recorded at Earls Court in London on Pink Floyd's 1994 The Division Bell Tour and features many of Pink Floyd's greatest songs including the whole Dark Side of the Moon album performed live.
Performers at the concert include David Gilmour, Nick Mason & Richard Wright with Jon Carin, Dick Parry, Guy Pratt, Tim Renwick, Gary Wallis, Durga McBroom, Sam Brown and Claudia Fontaine.
Roger Waters (the self-proclaimed creative force behind Pink Floyd and bass player) left the band many years before so is nowhere to be seen on this DVD!
Expect a press release in a few days time and eagerly await the theft of the in-store promotional stands for the Pulse DVD. I will be taking the one from my local HMV Music store!
Pulse DVD Contents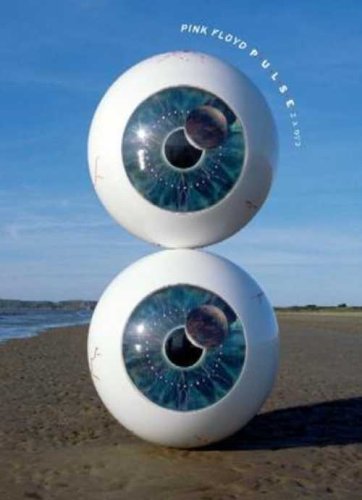 DISC 1
Concert Part 1:
Shine On
Learning To Fly
High Hopes
Take It Back
Coming Back To Life
Sorrow
Keep Talking
Another Brick In The Wall (part 2)
One of These Days
Screen Films:
Shine On
High Hopes
Learning to Fly
Bootlegging the Bootleggers:
What Do You Want From Me
On The Turning Way
Poles Apart
Marooned
Pulse TV Advert
Tour Stuff:
Maps, itinerary, stage plans
Videos:
Learning To Fly
Take It Back
DISC 2
Concert Part 2:
Speak To Me
Breathe
On The Run
Time
The Great Gig In The Sky
Money
Us And Them
Any Colour You Like
Brain Damage
Eclipse
Wish You Were Here
Comfortably Numb
Run Like Hell
Screen Films:
Speak To Me (graphic)
On The Run
Time 1994
The Great Gig in the Sky (wave)
Money 1987
Us And Them 1987
Brain Damage
Eclipse
Alternate Screen Films:
Time (Ian Eames)
Money (Alien)
Speak To Me 1987
The Great Gig In The Sky (animation)
Us And Them 1994
Behind the Scenes Footage:
Say Goodbye to Life As We Know It
Photo Gallery
Rock and Roll Hall Of Fame Induction Ceremony, USA 1996 Wish You Were Here with Billy Corgan
Cover art
Additional credits
Source: [ Hey You Italian Fanzine and BD Mag ]