"Our Technicolor Dream" – London ICA
Resources & Links
Institute of Contemporary Arts (London) | ICA Location Map | /Discuss
---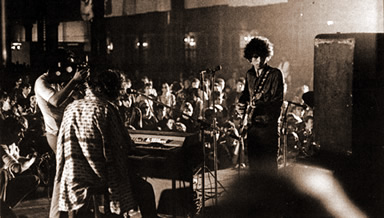 The Institute of Contemporary Arts in London are to stage a multimedia event with talks, films, bands, a theatrical play about Syd Barrett and groovy DJs in celebration of the 40th anniversary of the 14-Hour Technicolour Dream event!
It takes place on 21st April 2007 at the ICA in London which is located on The Mall in central London opposite St James's Park. There is not one single ticket for all events but you can phone the box office (+0044 (0)20 7930 3647) and get tickets for the event of your choice. Detials at bottom of this page.
2007 is a year of many anniversaries: twenty years since Acid House, thirty since the release of 'Never Mind The Bollocks', forty since Sgt. Pepper's and fifty since the publication of Jack Kerouac's On The Road.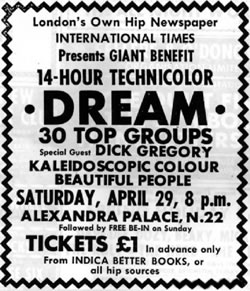 One event that gets far less publicity, but that was at the heart of everything that came both before and after it also sees its 40th anniversary this year. The 14-Hour Technicolor Dream took place on April the 29th 1967 and was the UK's first mass-participational all-night psychedelic freakout!
Organised and in a matter of weeks, the event was held in the cavernous confines of Alexandra Palace. The vision of Hoppy Hopkins and Barry Miles, the night saw a glorious mingling of freaks, beats, mods, squares, proto-punks, pop stars and heads come together to dance, trip, love and be.
To celebrate the anniversary, the ICA presents Our Technicolor Dream – a one-off multi-media event that features an array of cult 60s films and animation, full-on psychedelic lightshows, groovy DJs, avant-garde theatre, a Q&A session with the leading lights of the 60s underground and live music with The Amazing World of Arthur Brown, The Pretty Things, Circulus and Mick Farren! The event takes place on 21 April 2007.
Full Information Here.
The ICA is located near St James' Park on The Mall, London SW1Y 5AH. Box Office: +0044 (0)20 7930 3647 or Switchboard: +0044 (0)20 7930 0493.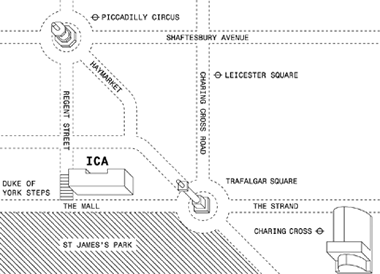 Sources: [ Emma @ ICA ]