Rare Pink Floyd Video on BBC TV Series
Resources & Links
Uncut Magazine | Discuss on Forum |
---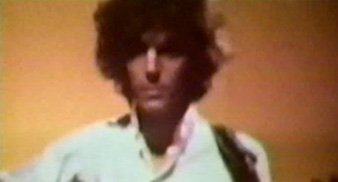 A rare Pink Floyd promo video for "Jughead Blues" is to be screened on TV for the first time, as part of a new BBC documentary series "The Seven Ages Of Rock."
The promo video was made by the Central Office of Information (COI) primarily for North American, Canadian and Australian television and is made up of small shorts including talking computors and see-through teapots.
"Jughead Blues" was the final video that Syd Barrett was included in before he was replaced by Roger Waters.
The new series will also feature a multitude of rare and never-seen-before film footage, including the first known broadcast of an alternate promo for the Floyd single "Arnold Layne" as well as home-made film footage of the band in 1967.
Previously unknown to Pink Floyd collectors, there is also a clip of the first film in colour of the band with David Gilmour.
The Floyd material will be part of episode two, a special on art rock – entitled "Between Rock And An Art Place."
Other rarities that "The Seven Ages Of Rock" have unearthed include a first broadcast of the Velvet Underground performing at the Annual Dinner of the New York Society for Clinical Psychiatry on January 13, 1966.

There will also be swathes of never-seen-before clips of David Bowie, including his show at the Rainbow Theatre on August 19 1972 and a perfomance of "Space Oddity" at the Ivor Novello Awards in May 1970. Both are being broadcast for the first time.
You can watch "The Seven Ages Of Rock" from Saturday May 19 on BBC2 at 9pm.
Sources: [ Uncut Magazine ]