Revealing Barrett Interview By Tim Willis
Resources & Links
Action: Sunday Times Article | Pay Your Respects and Discuss |News: Syd Barrett Dies At Age 60 – New Drawings To Be Shared | Multimedia: |
---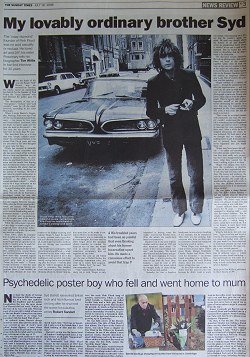 The British broadsheet national newspaper The Sunday Times has published an article written by journalist and Roger Keith Barrett biographer Tim Willis in today's edition.
The article features an important interview with Roger Barrett's younger sister of two years Rosemary who had been Roger's best friend for the past twenty five years.
Dispelling The Myth
Within the article, Rosemary dispels the myth that Syd Barrett was a recluse, mentally ill or a "mad genius". She described him as a loving man who "simply couldn't understand" the continued interest in his distant Pink Floyd years and was too absorbed in his own thoughts to spare time for fans.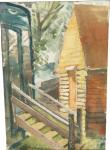 The article describes what Roger did in his spare time. He was very interested in art (he wrote an unpublished book on the subject) and thoroughly researched its history which included many trips to exhibitions.
He was a keen photographer and had a fondness for flowers causing him to visit the Botanic Gardens, for example. He used to photograph flowers, paint large oil on canvas paintings of them, photograph the painting then destroy the canvas painting! Once something was over, he felt no need to revisit it!
A Private Man, Not Mental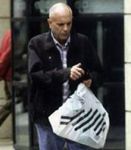 "That's why he avoided contact with journalists and fans. He simply couldn't understand the interest in something that had happened so long ago and he wasn't willing to interrupt his own musings for their sake. After a while he and I stopped discussing the times he was bothered. We both knew what we thought and we simply had nothing more to add. It became easiest to pretend those incidents never happened and just blank them out.
"Roger may have been a bit selfish — or rather self-absorbed — but when people called him a recluse they were really only projecting their own disappointment. He knew what they wanted but he wasn't willing to give it to them.
"Roger was unique; they didn't have the vocabulary to describe him and so they pigeonholed him. If only they had seen him with children. His nieces and nephews, the kids in the road — he would have them in stitches. He could talk at length and he played with words in a way that children instinctively appreciated, even if it sometimes threw adults."
Other Interesting Articles and Blogs
Observer Newspaper – Interesting musings from Syd Barret's childhood friend David Gale and photographer and friend Mick Rock.
Cambridge Evening News – an article in Roger's local newspaper in Cambridgeshire, England.
Newspaper Clippings – a selection of newspaper clippings from the UK national press on 12th July 2006. Thanks to Stu.
Ross Halfin's Spiteful Remarks – The photographer who did the publicity shots for David Gilmour's On An Island album slams Syd in July 14th entry.
Sources: [ The Sunday Times – Brain Damage ]