Rex Roman Pink Floyd Show in Chorley, UK
Links – Rex Roman Website 
---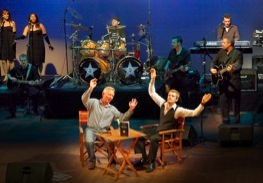 The Rex Roman Pink Floyd show is coming to Chorley in Lancashire on Friday 27th and Saturday 28th February 2009.
Based on the hilarious book "Chapters in the Life of Rex Roman" this show is the brainchild of the book's author and the band's drummer Simon Ash.  
A 8-piece live band and a cast of actors invite you into Rex World for the night of your life all set to the music of rock supergroup – Pink Floyd. 
When 52-year old Rex Roman hears that Pink Floyd are reforming for the Live8 concert his life is quickly plunged into a freefall of indecision, which leads to a period of reflection. Rex's agent – Mr Handsome – will guide you through a 2 hour tornado of time travel as we examine Rex Roman's life with comedy performances, guaranteed to have you in fits of laughter.
Flying pigs, dancing chickens, giant hot dogs, air guitars, wannabe waiters and Rex Roman himself all provide a show that is both as unique as it is brilliant.
Details of all forthcoming concerts can be found here. 
Source – [ Simon Ash ]