Remember A Day: Richard Wright in His Own Words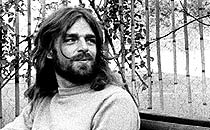 Following the recent death of Richard Wright, Radio 2 presents the story of his days in Pink Floyd, told entirely in Richard's own voice.  It is to be broadcast this Saturday 11th October 2008 at 7pm on BBC Radio 2.
Drawing from BBC archive and an exclusive interview conducted by producer Mark Hagen in September 2007, the last radio interview that Wright gave, Richard offers his unique and now sadly poignant perspective on 40 years as a member of one of the world's all time great rock bands.
Music, all composed by Richard, includes Remember A Day, Us & Them, The Great Gig in the Sky, Sysyphus, Echoes, Wearing The Inside Out and Shine On You Crazy Diamond.
You can listen via the usual means in the UK, and you can listen online if based around the world.  Visit the BBC Radio 2 website at http://www.bbc.co.uk/radio2 and click on the listen button on the top right.
Source – [ BBC Radio 2 ]