Roger Waters 2006 N American Tour!
Resources & Links
Roger's Website | Brain Damage |
---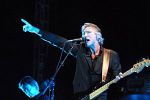 Brain Damage, the leader in Pink Floyd news, have shared details of Roger Waters North American tour dates which they obtained via Roger's manager.
The first half of the show will see Roger and his band performing Pink Floyd and Roger's solo classics. The second half will feature the full Darkside of the Moon album performed.
The shows will feature 360 degree quadrophonic sound, eleborate stage design and projections!
| | | |
| --- | --- | --- |
| Date | Location | On Sale |
| 6 Sept   | PNC, Holmdel, NJ, USA | May 19th |
| 8 Sept   | Tweeter Center, Boston, Mass, USA | April 29th |
| 12 Sept   | Madison Square Garden, New York City, NY, USA | May 15th |
| 13 Sept   | Madison Square Garden, New York City, NY, USA   | May 15th |
| 15 Sept   | Jones Beach, Wantagh, NY, USA | May 19th |
| 16 Sept   | Tweeter Center, Camden, NJ, USA | May 13th |
| 18 Sept   | The Palace, Detroit, MI, USA | May 6th |
| 20 Sept   | Air Canada Centre, Toronto, Canada | May 1st |
| 21 Sept   | Bell Centre, Montreal, Canada | May 1st |
| 23 Sept   | Nissan Center, Bristow, VA, USA | May 20th |
| 24 Sept   | Post Gazette Pavilion, Pittsburgh, PA, USA | May 1st |
| 27 Sept   | Gund Center, Cleveland, OH, USA | April 29th |
| 29 Sept   | First Midwest Bank Amphitheatre, Chicago, IL, USA | May 1st |
| 30 Sept   | Verizon Wireless, Indianapolis, IN, USA | May 1st |
| 3 Oct   | Cricket Pavilion, Phoenix, AZ, USA | April 29th |
| 5 Oct   | Hollywood Bowl, Los Angeles, CA, USA | April 30th |
| 8 Oct   | Theater Under The Stars, Las Vegas, NV, USA | TBA |
| 10 Oct   | Shoreline Amphitheatre, San Francisco, CA, USA | May 7th |
| 12 Oct   | Key Arena, Seattle, WA, USA | May 6th |
Source: [ Brain Damage Website ]