Roger Waters 2013 Tour Announcement
Links – Get our free newsletter for latest tour announcements! | Roger Waters Tour 2013 |
---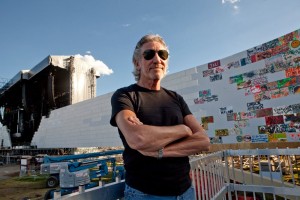 Roger Waters 2013 Tour dates have been officially announced and pre-sales have been taking place with many now on general sale including Roger Waters at Wembley.
This leg of the tour is most likely the final leg with no more concerts played outside of Europe so, if you want to see one of the most spectacular performances of The Wall in the new and enhanced stadium version, then act now!
The new show features more visuals and a much larger stage compared to the Arena tour configuration of the tour. Roger seems rather excited by it all in recent interviews and rightly so!
Roger Waters 2013 Tour Dates
Here is the list of the Roger Waters Wall Live 2013 European tour dates that have been confirmed so far. If you want to learn when other dates are announced for the 2013 Wall Live Tour, then please do get our free newsletter, follow us on Twitter and Facebook too! Once other concerts are announced, all the news will filter onto our newsletter and social media websites too!
July 2013
2013-07-20 – Roger Waters – Werchter Festival Site – Werchter – Belgium (Tickets)
2013-07-23 – Roger Waters – Stadion Poljud – Split – Croatia (Tickets)
2013-07-26 – Roger Waters – Stadio Euganeo – Padua – Italy (Tickets)
2013-07-28 – Roger Waters – Stadio Olimpico – Rome – Italy (Tickets)
2013-07-31 – Roger Waters – TBC – Athens – Greece (Tickets)

August 2013
2013-08-03 – Roger Waters – ITU Stadium – Istanbul – Turkey (Tickets)
2013-08-07 – Roger Waters – Synot Tip Arena – Prague – Czech Republic (Tickets)
2013-08-09 – Roger Waters – Commerzbank Arena – Frankfurt – Germany (Tickets)
2013-08-11 – Roger Waters – Parken (Copenhagen) – Copenhagen – Denmark (Tickets)
2013-08-14 – Roger Waters – Telenor – Oslo – Norway (Tickets)
2013-08-15 – Roger Waters – Telenor – Oslo – Norway (Tickets)
2013-08-17 – Roger Waters – Ullevi Stadium – Gothenburg – Sweden (Tickets)
2013-08-20 – Roger Waters – Stadion Narodowy – Warsaw – Poland (Tickets)
2013-08-23 – Roger Waters – Ernst-Happel Stadium – Vienna – Austria (Tickets)
2013-08-25 – Roger Waters – Puskás Ferenc Stadium – Budapest – Hungary (Tickets)
2013-08-28 – Roger Waters – Piata Constitutiei – Bucharest – Romania (Tickets)
2013-08-30 – Roger Waters – Vasil Levski Stadium – Sofia – Bulgaria (Tickets)

September 2013
2013-09-01 – Roger Waters – Usce Park – Belgrade – Serbia (Tickets)
2013-09-04 – Roger Waters – Olympiastadion – Berlin – Germany (Tickets)
2013-09-06 – Roger Waters – Esprit Arena – Dusseldorf – Germany (Tickets)
2013-09-08 – Roger Waters – Amsterdam Arena – Amsterdam – Netherlands (Tickets)
2013-09-09 – Roger Waters – Letzigrund Stadium – Zurich – Switzerland (Tickets)
2013-09-14 – Roger Waters – Wembley Stadium – London – England (Tickets)
2013-09-18 – Roger Waters – Aviva Stadium (Dublin) – Dublin – Ireland (Tickets)
2013-09-21 – Roger Waters – Stade de France – Paris – France (Tickets)