Roger Waters Graffitis Wall in Palestine!
Resources & Links
War On Want Website | Hi Res Photos of those Below | /Discuss On Forum | Download ITV News Video
---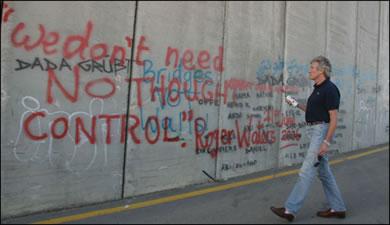 Roger Waters, founding member of super group Pink Floyd, has visited the East Jerusalem village of Abu Dis ahead of his performance in the Arab/Israeli Peace Village today (22 June). He called for an end to the on-going Israeli Occupation.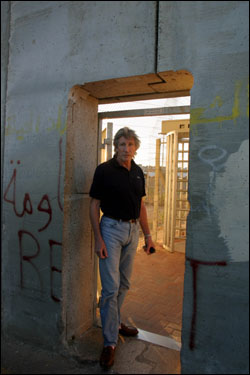 Waters moved today's concert from Hayarkon Park outside Tel Aviv after discussions with Palestinian artists, as well as Israeli refuseniks, who called on him to use the gig as a platform to build solidarity with those fighting the injustices of Israeli foreign policy.
He has taken part in a tour, with War on Want, of the occupied Palestinian territories, and seen for himself the hardship endured in towns like Bethlehem.
Waters, who has a lifelong commitment to social and global justice, helped launch the UK group War on Want's campaign against the Israeli Wall two years ago.
Waters said: "The peace village provides a great backdrop to this concert and performing a gig there, where Arabs and Jews live together in a peaceful community, symbolises my support for all those on both sides who reject extremism and violence in their quest for a just peace."
War on Want spokesperson Nick Dearden said: "We need musicians like Roger Waters taking this sort of principled stand. It is through statements and gestures like these that we can bring Palestine to the attention of the world, and ensure a better future for the region."
Source: [ War On Want ]