Roger Waters in 12.12.12 Televised Benefit Concert in NY
Links – Get Tickets | 121212concert.org | Get our newsletter for New Updates
---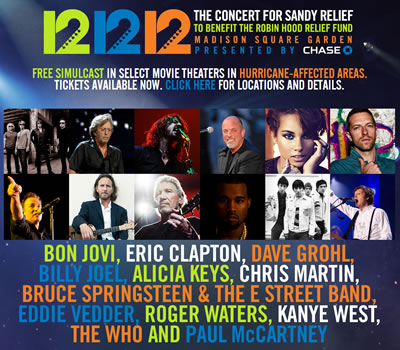 Roger Waters is set to join a collection of the world's greatest musicians and stars at a benefit concert in New York on 12th December 2012. The concert, in aid of victims of Hurricane Sandy, will be televised and broadcast to an estimated one billion people which could well include you!
You can get tickets from Ticketmaster.com for the event if you are able to make it to the performance on 12.12.12.
Concert Artist Lineup
Concert Lineup includes Bon Jovi, Dave Grohl, Billy Joel, Alicia Keys, Bruce Springsteen and the E Street Band, Eddie Vedder, Roger Waters, Kanye West, The Who, Paul McCartney.
This should be a rather spectacular event much like the last Live Aid in which Pink Floyd re-united to perform to the world for charity.
Watch Internationally
The concert will be broadcast over a range of platforms including TV, theatre and broadcast online via the likes of YouTube. You can see a full list of broadcast channels here.
The broadcast will commence at 7:30pm EST on December 12th. In the UK, this is 12:30am on 13th December in the early hours! Use this time zone converter to find what time it is on in your country. EST is New York time.
I cannot see which channel relates to the UK but there are certainly plenty of them. I think you can get RTL on Sky+ though the listings are not updated until tomorrow when I will update here the channel and time. Get our Newsletter to find out more.