Roger Waters Would "give concert in a flash if…"
Links – | Your Thoughts? | AP News Article | Jerusalem Post Article | Jenin info from Wikipedia  | NPF Newsletter
---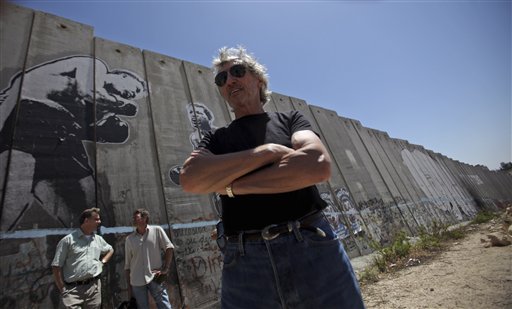 AIDA REFUGEE CAMP, West Bank — The legendary rocker and co-founder of Pink Floyd, Roger Waters, says he would give a concert in a flash if Israel's West Bank wall is torn down.
Roger Waters made the promise on Tuesday 2nd June 2009 during a visit to a Palestinian refugee camp that is hemmed in by the separation barrier's tall slabs of cement.
Causing A Fuss in 2006

Roger last visited the West Bank back in 2006 (article) where he caused a fuss when he was accused of causing criminal damage (article) by spraying spraypaint on the wall! 
The 65-year-old co-wrote Pink Floyd's iconic "The Wall" album and performed music from it in 1990 at the site where the Berlin Wall once stood.
Waters had harsh words for the West Bank barrier, which Israel says was built as a defense against Palestinian militants.
The musician says the wall amounts to an oppressive grab of Palestinian land and that he hopes that "this thing, this awful thing, is destroyed soon."
Roger Likes the Local Cinema?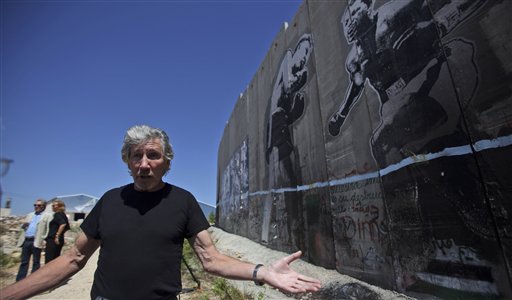 Visiting Jenin – the administrative centre of the West Bank (Wikipedia), "felt foreign in a good way," former Pink Floyd front man Roger Waters told a group of film students and several journalists in a small auditorium in the Sam Spiegel Film School in Jerusalem Monday evening. 
Waters was referring to his visit earlier in the day to the West Bank Palestinian town where he arrived to see in person a torn down cinema hall which he is helping rebuild. The cinema in Jenin was closed in 1987and has since been neglected and fallen into disrepair.
The Evening Begins

Roger Waters met a German film maker called Marcus Vetters whilst at a film festival dedicated to peace in Berlin. Vetters directed a moving film called 'Heart of Jenin' about a Palestinian man called Ismali Katib who donated the organs of his dead children to be transplanted in Israeli Hospital patients. Quite an act considering the history of the area.
Although he made several other films, it was after making Heart of Jenin that Vetters decided to promote the rebuilding of the cinema in Jenin.  The cinema is to promote peace and understanding.
Waters met Vetters in a festival dedicated to films about peace in Berlin, and immediately embraced the young director's initiative. It was not clear whether the renowned rock musician was financially supporting the project or if he just lends his reputation to it as leverage.
Roger Waters: "I am not of the Bono school."

Whilst in Jerusalem, Waters said, "I am not of the Bono school, who goes around the world being nice to everyone. When I have bad words to say I say them," he warned at the beginning of a short Q & A session that he had with Press Association.
Roger was asked a series of questions at the Q&A session.  Some of the questions he found to be quite irritating!
Asked by The Jerusalem Post whether he and Vetters were not afraid that the cinema, when up and running, might be hijacked by extremist forces which would use it to indoctrinate the Palestinians with hate propaganda, Waters answered that Fakhri, the Jenin man who is expected to eventually run the cinema, "would rather die than let it be taken over by extreme religious or political forces." 
When a reporter asked him whether he was aware of Prime Minister Binyamin Netanyahu's vow never to divide Jerusalem, he said angrily – "I have to take a few deep breaths before I answer" – that he could not believe that this was the current policy of the government, which he defined as "extreme right wing."
Waters Supports Two-State Solution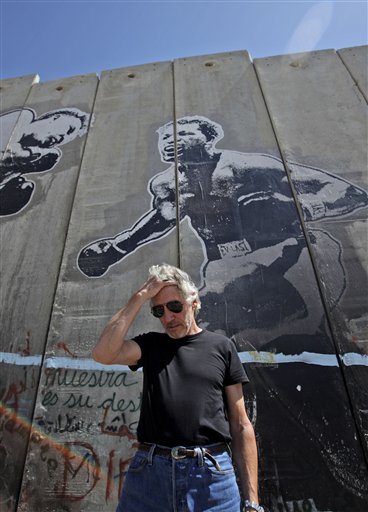 Waters seemed to support the two-state solution (hence pushing for the division of Jerusalem) but also asserted: "Voting doesn't mean shit unless everybody has a vote and everyone can move around freely… there should be no checkpoints. All this checkpoint bullshit is a method of your government to control, not only the Palestinians but you as well."
Waters said of the wall in West Bank, "[it's] an obscenity for other people in the world. It looks OK to Jews here and maybe in other places where they live, but people around the world see it as a weird way to live." He did not comment on the context in which it was built and the decline in terror attacks since its construction.
Asked by the Post to comment on the fact that Israelis enjoy a healthy political debate, including many political parties and NGOs which adopted the narrative of the "other," while there is little comparable debate and dissent coming from the Palestinians, he replied, "What do you expect when they don't have a pot to piss in?"
Waters: Religion is a smokescreen

Waters referred to religion as a "smokescreen" used by governments to gain power, wealth and land, and insisted as a self-proclaimed atheist that religion stands at the root of many global conflicts.
The weary looking 65-year-old insisted that, despite all the suffering he said he had seen, he was still "full of hope," and urged young Israelis to "move toward a solution which will be acceptable to both Israelis and Palestinians."
To do this, he suggested the people "Fight [their] current prime minister and move Israel to the left and away from this intransigent, hubris-affected hegemonistic (sic) state of affairs."
Your Thoughts?
Having read this news story, do you have any thoughts or comments that you would like to share with the NPF Community?  I have started a thread on the forum so you can share your views and read the views of others.  Go to the discussion.
Make sure you are subscribed to the NPF Newsletter to remain informed of all Pink Floyd and related news and competitions on NPF!
Source – [ AP & Jerusalem Post ]