Signed Pink Floyd Guitar Up For Auction
Links & Resources – FEd's Blog | Buy Once Give Twice website | Gerald Scarfe's Unique Book With Photo | NPF Photo Gallery | Discuss This on the Forum on this thread.
---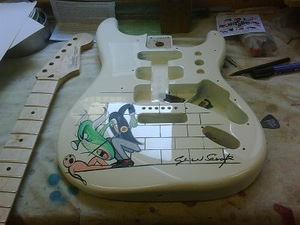 According to the "Feature Editor's" blog on David Gilmour's website, a Fender Stratocaster hand-painted by Gerald Scarfe is to be auctioned off and the proceeds given to the charity Crisis.  The auction is to take place next Wednesday 15th October 2008.  You must register to bid on the Buy Once Give Twice website.
In addition to the guitar, which is signed by members of Pink Floyd past and present, you'll also get Edition Number 001 of a 300-unit limited edition boxed set of EIGHT prints featuring artwork from The Wall, individually signed by Scarfe himself.  And there's more … a monograph featuring early illustrations and working drawings, and a rare new interview with the artist.  The book will also be signed by Pink Floyd founder member and "Wall" creator, Roger Waters.  This limited edition art collectible has been created by Gloria – check out their website for more information. www.scarfeonthewall.com.
The choice of Crisis as the benefitting charity is perfect.  The seminal music and artwork of The Wall express issues which can often lead to homelessness.  Pink's journey, involving the loss of loved ones, the breakdown of the family unit, and bullying by authority figures leading to mental isolation from society is one which is reflected by so many of the people with whom Crisis work.  Through their art, music and supportive education programmes, Crisis help people to break down The Wall and rebuild their lives.  It's incredibly apt that this unbelievably unique guitar, and publication, will raise funds for their vital work.  Crisis are thrilled to be the recipient of the funds, and we at BuyOnceGiveTwice are so proud to be chosen as the auction house.  Collectible guitars are an investment in themselves but, for a Pink Floyd fan and/or a collector, this guitar is the ultimate – it will never be repeated.
David Gilmour is a director of the charity Crisis and Gerald Scarfe is responsible for much of the iconic images from Roger Water's The Wall.
You should also read the previous news item on Gerald Scarfe's Unique Book With Photo which has lots of photos of the book/prints.
There are also loads of photos of this book in the NPF Photo Gallery.
At least now we know what David was doing walking round with a scratch plate with Roger Water's signature on, and what Nick Mason was doing in the kitchen! Is this a "green room" they are in?  Discuss on the forum.  ;-)
… and Nick in the Kitchen…..
Source [ FEd Blog and Buy Once Give Twice ]