Soundcheck: Syd Barrett Documentary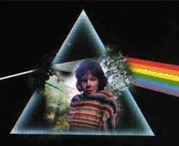 This week saw the latest in US public radio station WNYC's "Soundcheck" series, featuring the story, the talents and the influences of Syd Barrett and Nick Drake.
The show, broadcast on Tuesday evening, has now joined their archive of shows online, giving the world an opportunity to listen to it. You can access the show through this Real Audio link.
Entitled "Spirits of a Generation", the programme makers give the following synopsis:
Bohemian poet, artist and visionary, musician Syd Barrett joined the band Pink Floyd in 1965. His story is captured in a new documentary that tells of his dramatic rise to fame and his premature departure in a haze of drugs and psychological trouble. Host John Schaefer speaks with the director and producer of the documentary, John Edginton. He'll also speak with Patrick Humphries, biographer of the British songwriter Nick Drake, who died in 1974 at the age of 26 from an "accidental overdose" of anti-depressants. Drake released only three albums during his lifetime, rarely performed live and gave only one official interview, but his work spawned a following on all sides of the Atlantic.
The show lasts for 53 minutes, and is an interesting look at these relatively parallel careers. The first 20 minutes concentrates on Drake, and his tragically short life. The rest of the show concentrates on Syd's story, with John Edginton talking around the events depicted in the "Pink Floyd And Syd Barrett Story" DVD which has now been released in the US and Canada. Included are a handful of excerpts from the DVD, with the band talking about Syd. Some of the facts related in the interview aren't 100% accurate, but still, an interesting way to spend 30 minutes or so!
Source: [ Brain Damage ]