Storm Thorgerson's Taken By Storm Book
Resources & Links
Storm Thorgerson's Website | Taken By Storm Art Tour Site |
---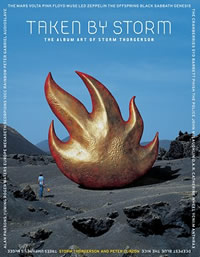 Legendary album cover art designer Storm Thorgerson has a new book out on 3rd May 2007 entitled Taken By Storm: The Album Art Of Storm Thorgerson published by Omnibus Press. The recommended retail price is £24.95 and will be available from all good book shops!
Taken By Storm is a fascinating selection of the best album covers designed by Storm Thorgerson over the past 35 years and also contains material he has worked on over the past 6 years which has never been published in book form.
Thorgerson's prolific album art is presented in full colour and includes in-depth analysis of each image, including the themes and motivations that inspired the works as well as practical details involved in producing the images. It is important not note that many of the album covers were designed before photoshop and advanced computer design software was created, so he often just used photography, paint and sculpture instead to create his masterpieces!
Pink Floyd Album Artwork

Amongst many iconic images creates by Thorgerson, one of this most famous was of course the cover for Pink Floyd's Dark Side of the Moon! He recently did a 30th anniversary stained glass version of the artwork which is detailed in the new book.
Sources: [ Sharon Kelly @ Music Sales Ltd ]