Syd Barrett Auction Fetches £119,890
Resources & Links
MS Excel Spreadsheet with Final Lot Sale Prices | Page with Prices on | Syd Barrett Artwork Photos | BBC News Story on Final Sale
---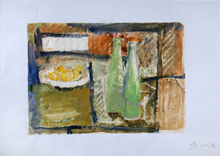 Still Life With Lemons and Green Bottles on a Shelf, signed SB Jan 06. £9,500!
The sale of Roger Keith (Syd) Barrett's final belongings were sold by Cheffins auctioneers in Cambridge, England on 28th and 29th November 2006.
The sale of the 77 items raised a staggering GBP £119,890 (USD $233,786 – Euros 177,437). The ten paintings alone raised over £55,000 and the two bicycles over £10,000!
The sale included such things as his armchair he used to sit in at 6 St Margaret's Square, his home-made bread bin, tools, notebooks and binders, bikes, books and his surviving paintings!
The sale catalogue described Barrett – who quit Pink Floyd in 1968 – as a man with a "total disinterest in materialism".
What is believed to be the final painting he did and did not destroy fetched £9,500! It was signed and dated with Jan 06.
You can view a full list of all the lots on this page or download an MS Excel Spreadsheet with final sale prices in Pounds Sterling £, US Dollars $ and Euros.
Feel free to discuss the sales on the forum on this thread.
Lots and Final Prices in Various Currencies
| | | | | |
| --- | --- | --- | --- | --- |
| Lot | Item Description | GBP £ | USD $ | Euro |
| Lot 737 | Still life with lemons and green bottles on a shelf signed RB Jan ?06 | £9,500 | $18,525 | € 14,060 |
| Lot 741 | Still life of Dried Flowers painted at Camberwell School of Art | £8,500 | $16,575 | € 12,580 |
| Lot 720 | Summer Landscape oil painting | £6,500 | $12,675 | € 9,620 |
| Lot 688 | Abstract painting ? mixed media | £6,000 | $11,700 | € 8,880 |
| Lot 711 | 2 x ink stylised landscapes | £6,000 | $11,700 | € 8,880 |
| Lot 718 | Abstract of Gog Magog Hills | £6,000 | $11,700 | € 8,880 |
| Lot 744 | Syds Bike with basket, bell that rings and things to make it look good | £5,500 | $10,725 | € 8,140 |
| Lot 710 | Pie Chart showing Summer and Winter solstice | £5,000 | $9,750 | € 7,400 |
| Lot 743 | Syds earlier bike painted blue | £5,000 | $9,750 | € 7,400 |
| Lot 733 | A painted stool | £4,400 | $8,580 | € 6,512 |
| Lot 719 | Earth and Sky watercolour | £4,200 | $8,190 | € 6,216 |
| Lot 725 | A collection of 23 art reference books | £4,000 | $7,800 | € 5,920 |
| Lot 735 | A modern junior classical acoustic guitar | £4,000 | $7,800 | € 5,920 |
| Lot 672 | Landscape, Cambridgeshire, mixed media | £3,800 | $7,410 | € 5,624 |
| Lot 740 | Syds principal scrap book | £2,200 | $4,290 | € 3,256 |
| Lot 701 | Two A4 ring binders of notes | £2,000 | $3,900 | € 2,960 |
| Lot 717 | Syds art materials | £1,800 | $3,510 | € 2,664 |
| Lot 683 | An A5 spiral bound notebook and another smaller notebook each containing notes on history | £1,700 | $3,315 | € 2,516 |
| Lot 729 | The remainder of Syds library | £1,700 | $3,315 | € 2,516 |
| Lot 727 | A psychedelic cushion | £1,600 | $3,120 | € 2,368 |
| Lot 700 | An A4 ringe binder of notes | £1,500 | $2,925 | € 2,220 |
| Lot 728 | Collection of 8 maps and travel related books | £1,400 | $2,730 | € 2,072 |
| Lot 738 | A homemade bread bin with clothes pegs | £1,400 | $2,730 | € 2,072 |
| Lot 673 | Two A5 spiral notebooks | £1,300 | $2,535 | € 1,924 |
| Lot 690 | Syds Chair ? a cream leather reclining armchair | £1,100 | $2,145 | € 1,628 |
| Lot 732 | A pair of homemade speaker cases | £1,100 | $2,145 | € 1,628 |
| Lot 677 | A modern desk lamp | £900 | $1,755 | € 1,332 |
| Lot 724 | A copy of The Compact Oxford English Dictionary | £900 | $1,755 | € 1,332 |
| Lot 682 | Syds artificial Christmas tree and decorations | £800 | $1,560 | € 1,184 |
| Lot 684 | Sharp micro system in original packaging with ?Roger?s old HiFi? written on the box | £750 | $1,463 | € 1,110 |
| Lot 699 | A Caucasian wool kilim carpet | £700 | $1,365 | € 1,036 |
| Lot 712 | A homemade trinket box | £700 | $1,365 | € 1,036 |
| Lot 721 | An adapted and stained side table | £700 | $1,365 | € 1,036 |
| Lot 736 | A pair of homemade and painted speaker cases | £700 | $1,365 | € 1,036 |
| Lot 692 | Syds basic tool kit | £650 | $1,268 | € 962 |
| Lot 707 | A garden bench | £650 | $1,268 | € 962 |
| Lot 674 | A pair of homemade curtains printed with dancing animals | £600 | $1,170 | € 888 |
| Lot 703 | A small modern rug | £600 | $1,170 | € 888 |
| Lot 716 | A homemade and painted workbox | £600 | $1,170 | € 888 |
| Lot 723 | A homemade and painted table | £600 | $1,170 | € 888 |
| Lot 671 | A modern personalized Sanyo Micro Component system | £550 | $1,073 | € 814 |
| Lot 698 | A pair of easy chairs | £550 | $1,073 | € 814 |
| Lot 714 | Syds easel | £550 | $1,073 | € 814 |
| Lot 678 | A homemade side table or footstool | £480 | $936 | € 710 |
| Lot 680 | A homemade side table | £480 | $936 | € 710 |
| Lot 715 | A homemade and painted letter rack | £480 | $936 | € 710 |
| Lot 739 | Syds scrap book generally empty bar 5 pages | £480 | $936 | € 710 |
| Lot 689 | Homemade light box | £460 | $897 | € 681 |
| Lot 709 | A homemade and painted side table | £460 | $897 | € 681 |
| Lot 713 | A Work Mate | £460 | $897 | € 681 |
| Lot 731 | An adapted and painted laminate chest of 5 drawers | £440 | $858 | € 651 |
| Lot 667 | Homemade painted table | £420 | $819 | € 622 |
| Lot 669 | A modern 3 drawer chest | £420 | $819 | € 622 |
| Lot 681 | A homemade pine coffee table | £420 | $819 | € 622 |
| Lot 734 | A telephone table | £420 | $819 | € 622 |
| Lot 668 | A modern painted kitchen chair | £400 | $780 | € 592 |
| Lot 706 | A modern wheelbarrow | £400 | $780 | € 592 |
| Lot 675 | An adapted kitchen cupboard | £380 | $741 | € 562 |
| Lot 676 | A painted chest of 5 drawers | £360 | $702 | € 533 |
| Lot 670 | A painted and adapted chest of three drawers | £340 | $663 | € 503 |
| Lot 687 | A modern painted chest of 3 drawers | £340 | $663 | € 503 |
| Lot 726 | A homemade white painted wall cabinet | £340 | $663 | € 503 |
| Lot 694 | A homemade and painted cupboard | £300 | $585 | € 444 |
| Lot 705 | A homemade and painted open fronted cupboard | £300 | $585 | € 444 |
| Lot 691 | A modified pine bedside chest of drawers | £280 | $546 | € 414 |
| Lot 704 | A homemade painted walking stick stand | £280 | $546 | € 414 |
| Lot 685 | A modern painted and modified chest of 3 drawers | £240 | $468 | € 355 |
| Lot 686 | A modern painted and modified chest of 5 drawers | £220 | $429 | € 326 |
| Lot 702 | An adapted kitchen unit of 3 drawers | £200 | $390 | € 296 |
| Lot 730 | A painted and adapted bedside unit | £200 | $390 | € 296 |
| Lot 679 | A homemade plywood shelving unit | £190 | $371 | € 281 |
| Lot 693 | A modern low set of pine open bookshelves | £180 | $351 | € 266 |
| Lot 695 | A homemade and painted open fronted box | £180 | $351 | € 266 |
| Lot 696 | Syds homemade single bed frame | £170 | $332 | € 252 |
| Lot 697 | A homemade blanket box | £170 | $332 | € 252 |
| Lot 722 | An Ikea Billy bookcase | £160 | $312 | € 237 |
| Lot 708 | A homemade and stained garden table base (no top) and a bird table | £140 | $273 | € 207 |
| | | | | |
Sources: [ NPF, Cheffins, Astral Piper]