Syd Barrett Fart Enjoy Book on eBay for Charity
Links – eBay auction page | Syd Barrett Fart Enjoy Photos page | Syd Barrett Photos – Pictures | Syd Barrett Trust website | Previous News – Delay for Piper Release due to legal reasons |
---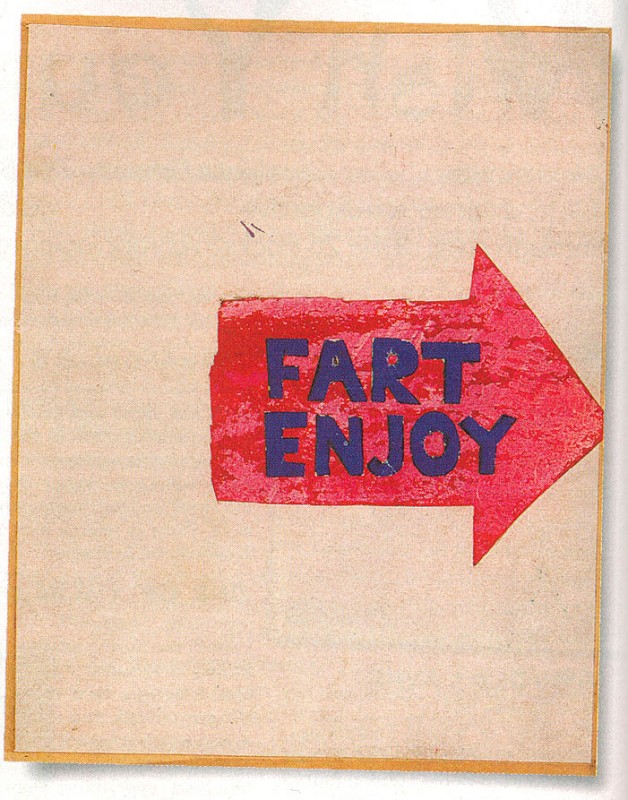 A collection of original drawings by Syd Barrett is to be auctioned this week. The artwork comes in the form of 'Fart Enjoy', a book featuring sketches the late founder member of Pink Floyd created in the time immediately before the formation of the band in 1965. The book was reproduced in a scaled down format for the re-release of Piper at the Gates of Dawn on its 40th Anniversary, albeit with one of the pages bank for legal reasons. You can view the complete book in the Syd Barrett Fart Enjoy Photos page.
The twelve pieces of art were created in response to a similar book, sent to Syd by school Friend Andrew Rawlinson.
Describing the unique item, Rawlinson says: "It's seven sheets of cardboard held together by sellotape. It's also a little gem and as good a reflection of the man himself as I know – experimental, colourful, wide open and right on the button.
"Nobody in the rock world has ever integrated words and images like Syd, or produced anything quite as fresh and complete as this. Syd did it in a day or two at the age of 18 or 19."
The work sees Barrett mix images and words in an abstract manner, one such picture merges a text book and the Beatrix Potter story The Tale of Jeremy Fisher.
This collection of artwork gives Syd Barrett and Pink Floyd fans an intriguing snapshot of the creative mind of one of the bands founder members just prior to their formation, although no one will ever know the full story, as Rawlinson says: Im not expecting his book to fill the void. But a light shines in it, through it, nonetheless.
Proceeds From Auction
Proceeds from the auction will go to support the work of the Syd Barrett Trust, set up in 2008 by Syd's sister, Rosemary Breen. The Trust exists to raise funds for arts projects in the mental health sector; extending to other individuals the enjoyment and benefits that Syd found in the arts.
"Because I recognise how important music and painting were to Syd, I want to help other people, who can benefit in the same way from the arts as he did, by providing opportunities for active involvement in the creative process. Syd would be really pleased to know that money raised from the auction of his things was being used for this purpose." Rosemary Breen, founder and patron, The Syd Barrett Trust
Bidding is now open, and closes at 4 minutes past 9 PM UK time, Tuesday March 24. Visit eBay auction page. You can also find out more info from the Syd Barrett Trust website.
Source – [ Syd Barrett Trust ]