Syd's Sister Grateful For Tributes
Resources & Links
Cambridge Evening News Article | Discuss On Forum
---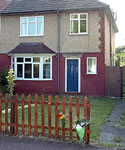 Syd Barrett's former home at St Margaret's Square, Coleridge, Cambridge
Syd Barrett's sister Rosemary is reported as being touched by the public response to the death of her brother according to today's Cambridge Evening News.
Rosemary Breen has been inundated with cards and letters of support from fans all over the world. Many fans are also making pilgrimages to Syd's former home in St Margaret's Square, Coleridge, Cambridge, to leave flowers and even banners outside.
Commenting on the masses of "celebrity" people who have paid tribute to her brother, Rosemary said, "He would think it was all very funny!".
"He simply couldn't understand hero worship. One of the reasons he left the music business was because he didn't believe what he was doing was anything so special. That's what happens when someone is gifted; they don't see why everyone else isn't doing what they are.
"We always knew he was held in great esteem, but the reaction has surprised us – to me though, he was always just my brother."
Cambridge Evening News reported that Mrs Rosemary Breen has been deeply touched by more than 50 messages of support sent to her. She said: "The kindness shown to me and the affectionate memories told to me have been so comforting.
Thank you for all the letters and cards from Cambridge and around the world. It is wonderful to know he lives on in the hearts of so many."
Rosemary said she is in a state of "shutdown" after her brother's death and is trying to come to terms with the loss of her brother – who she says she was so close to they had a "telepathy" between them.
She said: "If you asked him, he would never refer to himself as a musician, it was always artist. Art was his first love – he would like to take photographs of the countryside and then paint from the pictures. He wanted things to be original so he would take a photograph of the finished painting and then destroy the painting and the photograph he used to paint from, so you would be just left with the photograph of his artwork.
There is a lot of his artwork about, which is a comfort."
On the issue of erecting a memorial for the late Mr Barrett, Rosemary said it was something for others to decide upon, although if there was a memorial it should reflect Syd's personality – something "off the wall and eccentric".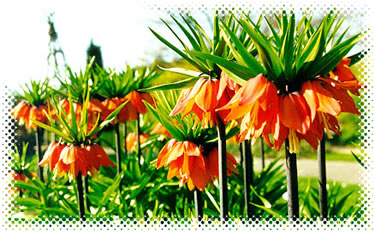 Flowers from Botanic Gardens, Cambridge (© 2002 Michael Dorris)
One of Syd's many fans, Nick Manning, of Warren Road, Chesterton, Cambridge, has written to Cambridge University Botanic Garden – which Syd would regularly visit – suggesting a tribute be made there.
He has put forward an idea to name the gates on the Trumpington Road entrance as "The Gates of Dawn"! Obviously a reference to Floyd's debut album, The Piper at the Gates of Dawn which Syd Barrett wrote the majority of!
Roger Keith "Syd" Barrett died on Friday, July 7, at the age of 60 due to complications arising from diabetes.
Sources: [ CEN ]