A Technicolor Dream DVD with Pink Floyd/Syd Barrett
Purchase Now – Amazon.co.uk
 – Amazon.com
Read Full Review of the DVD in the NPF Magazine and see Screen Capture Photos
---
On 28th October 2008, Eagle Vision, the wholly-owned subsidiary of Eagle Rock Entertainment, will release on DVD the incredible two-hour feature film documentary A Technicolor Dream.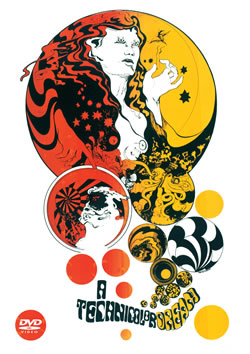 More than just the story of the British 1960s underground movement that culminates at "The 14-Hour Technicolor Dream" (an all-night happening at Alexandra Palace on April 29, 1967), it is also a fascinating look at a young band called Pink Floyd (with the mythic Syd Barrett). This DVD comes complete with three full bonus Pink Floyd performances with Barrett on guitar and vocals from 1967, as well as additional interviews with Roger Waters, Nick Mason and others not seen in the original BBC broadcast version.
From the London Free School and UFO Club to the Notting Hill Carnival, this is the story of an activist generation and how that generation—like their stateside counterparts—protested inequality and injustice. The sense of community that bonded such a generation to see wrongs and try to right them hasn't been seen since. The marches, the mania, the fact that back then, activism was part of the daily fabric of youth culture, seems almost impossible in this day and age. Those who lived it, though, on either side of the Atlantic, know what it felt like. Those who didn't, can only watch a film like this and imagine.
Two other big bands of the era—The Crazy World Of Arthur Brown and The Pretty Things—perform and are interviewed.
The three complete Pink Floyd performances are "Astronomy Domine," "Scarecrow" and "Arnold Layne."
Order Now from Amazon
A Technicolor Dream – Amazon.co.uk
A Technicolor Dream – Amazon.com
Source [ Eagle Rock Entertainment ]