The Big Pink Floyd Survey!
Links – Do the Survey – Discusson Forum – Pink Foyd Discography
---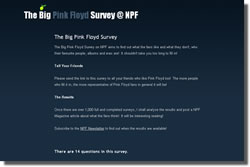 The Big Pink Floyd Survey is a short list of questions and ratings that will help find out who the typical Pink Floyd fan is: what their opinions on albums, members and other issues are!
There are 14 questions in the survey and should take no more than a few minutes to fill out!
Do The Big Pink Floyd Survey Now

Results?
Once there are over 1,000 surveys completed and submitted, I shall perform an analysis on the results and post an article in the NPF Magazine section! Make sure you are on the NPF Newsletter list to find out when the results are available.
Spread The Word!
If you know any other Pink Floyd fans, then please send them the link to the survey and ask them to complete it too! The more people that complete it, the more representative the results will be of the entire lot of Pink Floyd fans! Feel free to post the link on Blogs, Forums, your Website etc. The survey will remain open indefinitely.
https://www.neptunepinkfloyd.co.uk/survey/?sid=53862
The Questions in the Survey Above
1.0 About You
1.1 Age
1.2 Gender
1.3 What Country Do You Live In
2.0 – General Pink Floyd Questions
2.1 Have you ever seen Pink Floyd live?
2.2 Have you ever been to a Pink Floyd Tribute Band concert?
2.3 What is your favourite Era of Pink Floyd?
2.4 Who is your favourite member of Pink Floyd (past or present) ?
2.5 On a scale of 1-10, how much of a Pink Floyd fan are you?
2.6 Who is the best MUSICIAN in Pink Floyd (past members included)
2.7 What is your favourite Pink Floyd song?
3.0 Rate Pink Floyd Studio Albums
Rate all of Pink Floyd's Studio Albums. You may need the Pink Floyd Discography to jog your memory.
4.0 Rate Solo Albums
As above but for solo albums.