The Madcap Next Door – What Living Next Door to Syd Barrett Was Like
This article considers some of the points raised in an article published in the Mail on Sunday tabloid newspaper in Great Britain. It sheds light on the life of Syd Barrett once he returned home from London to Cambridge. It seems Cambridge was not as quiet and idyllic as one may have thought! Discuss on forum.
———————————————————————–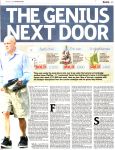 Article from Mail on Sunday
If an article published by the British tabloid newspaper The Mail on Sunday – and the gentleman who wrote the story – are to be believed, then it would seem Roger Keith (Syd) Barrett was not quite the quiet recluse (who lived at number 6 St Margaret's Square in Cambridge for the final 25 years of his life) that everyone thought he was. Former next door neighbour David Sore from number 7 (it's a cul de sac so 7 is next door) apparently shared some of his memories of living next door to Syd Barrett from childhood until recently in the Mail on Sunday.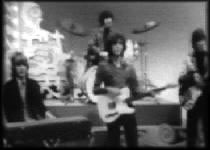 Pink Floyd performing on the American Bandstand show in 1967
Syd Barrett's frequent use of mass quantities of drugs – probably combined with a natural propensity to develop the symptoms of schizophrenia – caused him to be unreliable in a professional band as Pink Floyd had become by 1967. When Pink Floyd finally got their visas sorted out so that they could work and perform in the USA in November 1967, Syd was not able to perform at all on occasion; particularly the American Bandstand show. Additionally, on the Jimi Hendrix Experience tour later that month, – on which Pink Floyd were one of the support acts – Barrett was being typically Barrett about things and, on one occasion, Davy O'List from The Nice had to stand in and play Syd's parts.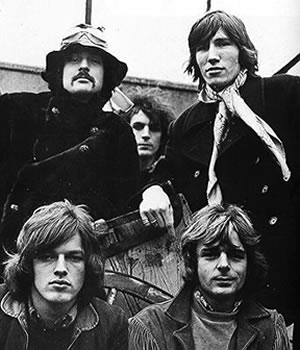 Iconic photo of The five man Floyd with Barrett centre back.
In January 1968, Syd Barrett's erratic behaviour was preventing Pink Floyd from being a professional and reliable band. David Gilmour was, by now, joining Pink Floyd on stage to play as the 5 man Floyd. The egos of the band were thirsty for success and so it was decided one day, on the way to a gig in Southampton, that Syd Barrett would not be picked up. David Gilmour would thus become the permanent lead guitarist for Pink Floyd from the 26th January 1968 at the Southampton University gig they drove to in their van. This late comer to Pink Floyd is currently its lead guitarist and front man.
The fact that Syd was the creative force behind Pink Floyd in the 1960's, led the bands management to drop the Pink Floyd in favour of managing the talent of Syd. Syd went on to record two solo albums called The Madcap Laughs and Barrett although not to considerable commercial success. Much later, an album of studio out-takes and dropped tracks was released called Opel. Due to his increasingly fragile mind, bad behaviour and worsening mental condition, Barrett eventually retired from the music business. Apparently with a little bitterness and resentment!
Wish You Were Here Sessions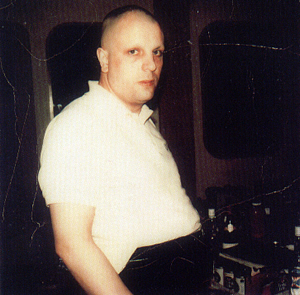 Roger Keith Barrett during Pink Floyd's Wish You Were Here sessions at Abbey Road
To assume that Syd Barrett had completely left the earth due to his mental health problems would be a flawed assumption; especially in light of the recent accounts of his life post-Floyd. There was one occasion during the Wish You Were Here recording sessions in the 1970s that Syd Barrett turned up at Abbey Road Recording Studios in London. The Pink Floyd members saw a large, round, extremely fat man appear in the studio with a completely shaved head. Even his eyebrows were missing. It suddenly dawned on the members of Pink Floyd that the man was none other than Syd Barrett. They were working on the tribute song to Syd Barrett 'Shine On You Crazy Diamond' at the time.
Eventually Barrett had returned home to Cambridge to 6 St Margaret's Square to live with his mother Winifred Barrett after a stint of living in various places such as Chelsea Cloisters where he often gave away expensive items to people. Barrett's mental condition had not improved and, according to a story in the mail on Sunday on 3rd December 2006, Barrett's erratic and abusive behaviour forced Winifred Barrett to move out of 6 St Margaret's square leaving her daughter – Barrett's sister – Rosemary to look after Syd. She visited often and they became very close.
Barrett's Neighbour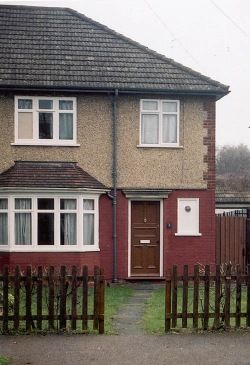 Syd Barrett's house at 6 St Margaret's Square in Cambridge
For a long time, biographers of Roger Keith Barrett have been unable to shed much light on the life of Barrett when he moved back to Cambridge in 1981. But, in an article written by Barrett's former next door neighbour David Sore published on 3rd December 2006, a wealth of anecdotes have appeared that, combined with the recent auction items ofBarrett's final possessions, shed a great deal of light on the mysterious life of Roger Keith Barrett.
Some of the events and happenings as written by the neighbour in the Mail on Sunday article are listed below. Apparently Roger's behaviour went like this:
• Screaming and animal-like howling;
• Shouting 'F****** Roger Waters! I'm going to f****** kill him';
• Destroying furniture;
• Destroyed the beautiful front garden of the property;
• Having huge bonfires to burn the trees and his paintings;
• Lived on fry-ups often setting pan on fire then abandoning it;
• Syd smoked and drank a lot of alcohol;
• Neighbour only saw Barrett smile once when neighbour was washing his car. Neighbour speculated that Barrett possibly thought he was watering it like a plant as the hosepipe let out its water;
• After 1986, the peak of the legal wrangling with Pink Floyd and Roger Waters co-incidentally, Barrett started to calm down and had less 'attacks' as his neighbour called them, eventually even sending hand-made Christmas cards to neighbours.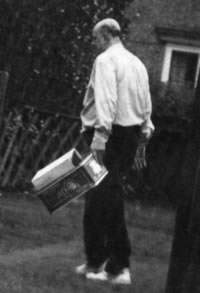 Barrertt taking out the rubbish.
Some of the redeeming factors the former neighbour David Sore pointed out were that, when Roger Barrett was not having one of his attacks – indeed, they died down after the late 1980s – Roger was a pretty quiet neighbour. It was rare that any noise was heard except for the occasional piece of Jazz or Classical music. But never Syd's own work.
One song by Syd Barrett called 'Here I Go' possibly expresses the anger Barrett felt about being ejected from the Pink Floyd in January 1968.
This is a story about a girl that I knew
She didn't like my songs and that made me feel blue
She said a big band is far better than you…

She don't Rock 'n' Roll, she don't like it
She don't do the stroll, well she don't do it right
Well everything's wrong and my patience is gone
When I woke one morning and remembered this song
Kinda catchy

I hope that she will talk to me now and even allow me
To hold her hand and forget that old band….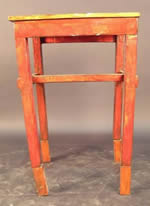 An adapted and stained side table as made by Barrett.
So, there you go. Now we know what Mr Barrett got up to when he wasn't engaged in his 'interesting' and 'alternative' DIY projects. Perhaps one could speculate from the evidence that Barrett was bitterly annoyed about being thrown out of his own band that he made famous.
Perhaps his bizarre behaviour was not inspired by anything in particular; perhaps the destruction of his property was inspired by a desire to "renew" things that had been broken. Indeed, many of the photos from the auction of Roger Barrett's final possessions show some interesting creations. Perhaps these were the results of the poor skill Barrett applied to trying to fix his possessions that he had destroyed.
Above all, it is clear that Roger Barrett did not have any interest in material things at all. One must stop and think who are the crazy people? People like Barrett or people who over-value possessions. What an interesting perspective and way of life Barrett had. May he rest in peace.

Feel free to discuss this issue/article on the forum on this thread.
References:
I – Internet
Pink Floyd Concert Dates (URL broken)
II – Books
Inside Out: A Personal History of Pink Floyd by Nick Mason
Crazy Diamond: The Syd Barrett and Pink Floyd Story by Mike Watkinson and Pete Anderson
III – Publications
The Mail on Sunday 03.12.2006