The Surrogate Floyd By Andy Gibbons
2004's return of a Pink Floyd song to the British singles charts via The Scissor Sisters was a prime example of the way that the band's song catalogue is being taken up by other artists. Whilst the group itself seems to have receded over the horizon following the live reunion, musicians are showing a renewed interest in the band as a creative force. In the New Year DJ Eric Prydz issues a single using samples from Another Brick in the Wall and it seems that musicians are no longer intimidated by the Floyd's reputation for occupying the summit of technical rock music.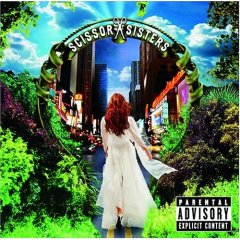 Scissor Sisters self-titled album
Of course some bands are easier to cover than others – technical excellence is hard to beat. And some of Pink Floyd's songs do not easily lend themselves to alternative versions – the length of tracks like Dogs and Echoes makes them unlikely candidates for an established band to record. Equally the very personal nature of some the Wall's tracks makes them less likely to be re-recorded.
Nevertheless, a good song is a good song – as the hundreds of artists who have recorded modern classics like the Beatles' Yesterday would no doubt agree. Pink Floyd has had its share of musical admirers, as a trawl of the internet sites devoted to covers shows:SecondHandSongs.com lists 59 Pink Floyd songs which have been played by other bands from the famous to the obscure. Wish You Were Here – the buskers' favourite – is unsurprisingly listed as the most covered song with 21 versions, followed by Comfortably Numb with 13 covers.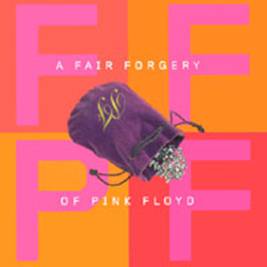 A Fair Forgery of Pink Floyd
Another phenomenon of the last ten years or so has been the growth of tribute albums and genre shift recordings. Some of these feature unknown bands and artists; others include well-known performers such as Chris Squire and Steve Howe of Yes. Classically, orchestral versions of Floyd tracks abound and for Country fans there is a Bluegrass album of their material. There is even a children's nursery CD of Pink Floyd tracks for your infant prodigy.
Tribute bands, on the other hand, fall into their own category – they aim to provide a live recreation of the Floyd's work now that the band itself is no longer touring. Some are excellent recreations of the Floyd sound and they deserve credit for filling a gap for fans. But they are different from musicians who are established in their own right covering a particular song for their own artistic reasons.
Before embarking on a tour of the wonderful world of Floyd covers it's worth asking: what makes a good cover? Well, there are three types of covers: at worst there are those by performers who hope to gain by hanging onto the coat-tails of a bigger band. Then there are covers which are driven by a genuine desire to emulate a group that the musicians respect. Finally, there are versions which go beyond the original by adapting tracks in a new and innovative way. Who, for instance, would not prefer Joe Cocker's incendiary performance of 'With A Little Help From My Friends' to the plodding Beatles version?
So which cover versions work? This is a purely personal and subjective list, but it shows the diversity of established artists who have risen to the challenge of playing or recording a Floyd song.
Hawkwind – Cymbaline.
An early line up of Hawkwind
This is a faithful acoustic version of one of the Floyd's most underrated songs. It must also be one of the earliest Floyd covers as it was recorded in 1969 when the band was still known as Hawkwind Zoo. Coming from the same Nottinghill Free School background as the Floyd, the track has the authority of springing from the same scene and shows the influence of Pink Floyd in establishing the Space Rock genre. Hawkwind themselves developed complex sound and light shows revolving around epic Science Fiction themes, an area the Floyd became closely associated with in the late sixties. The track comes as a bonus on the CD of their first record. Hawkwind has also recorded a version of Interstellar Overdrive.
David Bowie – See Emily Play
This track comes from Bowies' 1973 'Pinups' album, a record of sixties covers, which pays tribute to the people who inspired him when he began his career under the name of David Jones. When Syd Barrett died Bowie acknowledged this debt:
"The few times I saw him perform in London at UFO and the Marquee clubs during the '60s will forever be etched in my mind. He was so charismatic and such a startlingly original songwriter. Also, along with Anthony Newley, he was the first guy I'd heard to sing pop or rock with a British accent. His impact on my thinking was enormous. A major regret is that I never got to know him. A diamond indeed."
Voivod – Astronomy Domine
This cover from the French-Candian band's 1989 Nothingface album reaches back into the Barratt era again. Their version is a powerful heavy rock workout with guitars taking Rick's keyboard parts, but they struggle with Syd's lyrics: "Oberon, Mir under and titanium…" Nice spacey middle section though.
Korn – Another Brick In the Wall
Played live at gigs, the band transforms the melancholy funk of the Floyd's original into a crunching metal stomp. By putting all three parts together they give us the song in a new form. Not to everyone's taste – particularly the rather laboured guitar solo – but the power and aggression come through loud and clear. Some versions also add Goodbye Cruel World to the end.
The Flaming Lips – Breathe
This was played live as an encore at Glastonbury in 2003. The band does a modern but instantly recognisable version with a backbeat similar to 'Fight Test' on Yoshimi Battles the Pink Robots. For a band that writes concept albums and has released a CD called the 'Finally The Punk Rockers Are Taking Acid', a Floyd cover comes as no surprise.
Graham Parker – Comfortably Numb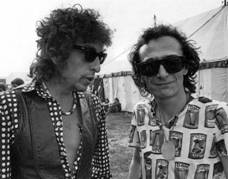 Graham Parker and unknown 1978
Graham Parker, the lost hero of the British new-wave has even more reason than Roger Waters to be disenchanted with the music industry – listen to his track Mercury Poisoning about the record label of the same name. Recorded for the 'A Fair Forgery of Pink Floyd' tribute album, this solo acoustic number is a stripped down, raw and personal take on one of the Floyd's biggest numbers. And he still has a great voice!
Time – Easy Star Allstars
Some bands aren't content just to cover one track. This version of Time is from the 'Dub Side Of The Moon' album. The idea of a reggae Dark Side Of The Moon sounds like a recipe for disaster on the scale of the infamous Discoballs album of the 1970s, which truly lived down to its name. But actually dub reggae sits surprisingly well with many of the leisurely Floyd tempos on the original album. Equally, the Floyd themselves were the masters of the echo unit in their early career. The Allstars take on Time adds a toasting section on the theme of time and mortality instead of Gilmour's astral guitar solo, but it works on its own terms. Lem Oppenheimer, the originator of the project commented
"We were determined to get to the heart of the piece and turn it into something that might have been recorded this way in a parallel universe"
The closest the song comes to parody is to use a chorus of electric alarm clocks instead of the original collage of chimes at the start of the track.
Any Colour You Like – Dream Theatre
Another band that couldn't stop at covering just one track. Released as a DVD from their 2005 Hammersmith Apollo gig, this is a live performance of DTSOM by one of the most successful American new progressive bands. On Any Colour they show their virtuosity with an extended jam around this instrumental piece.
David Gilmour and David Bowie – Arnold Layne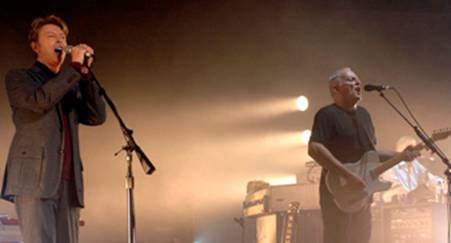 Is this a cover or is it not? Well, the song was recorded before Dave joined the band and as guest vocalist Bowie is definitely covering the song, so I rest my case. A great version by one of the few people who can carry off a Syd song successfully. I look forward to the official release this Christmas.
Some Pink Floyd fans don't like covers, believing that the band's music is sacrosanct. But a good cover gives a fresh and stimulating view of familiar material: a band's legacy is not just its own recordings, but the way its music serves as an inspiration to others.