The Times Rich List 2006
Resources & Links
The Times Rich List 2006 | Discuss this rich list here
---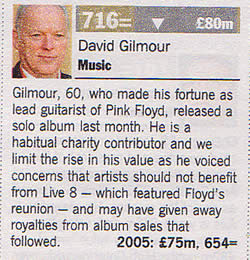 It is that time of year again when the British broadsheet newspaper The Times publishes what it believes to be the definitive list of the country's 1,000 richest people! Just after the close of the 2005/06 financial year, the list is compiled and then analysed by envious eyes up and down the country. People look to see just how much money a relatively small group of people have!!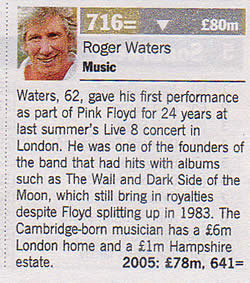 It goes without saying that David Gilmour and Roger Waters are in the list as is Nick Mason. David and Roger are both worth £80m each! Nick Mason is worth £50m!
Roger and David are both at number 716 in the top 1,000 richest people in Britain. They have both slipped down the list as Roger was at 641 and David at 654 in the 2005 Rich List!
Considering the amount of money David Gilmour gives to charity, it is odd to see that he is still worth the same as Roger Waters who wrote most of The Wall and Darkside of The Moon! Davis must be a better business man than Roger!
You can click on the image below to enlarge it to see the top 40 richest people in music in Britain. Engelburt Humperdink is worth the same as Roger and David!
You may want to visit The Times website to look at the complete list of the 1,000 most richest people! Choose from the list on the right on the Times website.
Source: [ The Sunday Times ]