UK Music Hall of Fame – Gilmour/Wilson
Resources & Links
Channel 4 | VH1 Press Release | Discuss on forum | Photos of Ceremony
---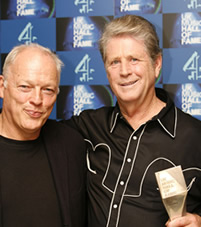 The UK Music Hall of Fame ceremony is broadcast tomorrow (16 Nov 2006) on Channel 4 at 9PM GMT. It will also be broadcast in America on VH1 on 25th Nov 2006 at 9PM.
Amongst other things, David Gilmour will induct Brian Wilson into the UK Music Hall of Fame. Brian will also be performing live.
From Channel 4
It's that time of year again, folks. No, we don't mean the Autumnal Equinox, or the third week back at school (when you actually have to start doing proper work, boo) – we mean it's time once again for more music legends to be inducted into the UK Music Hall Of Fame! The ceremony known to its friends as 'UKMHOF' is in its third year now, and yet more illustrious names from pop's history are lined up to take their place among fellow luminaries.
So, who's due to be inducted this year? Well, how about Brian Wilson, Dusty Springfield, Led Zeppelin, James Brown, Bon Jovi and Rod Stewart? Not to mention Beatles producer Sir George Martin and all-round musical genius Prince.

Swish, eh? The ceremony, held at London's Alexandra Palace, will be screened on C4 on November 16 at 9pm. Among the celebrations will be Brian Wilson playing live, Joss Stone and Patti LaBelle performing two of Dusty Springfield's greatest hits, and Wolfmother doing a tribute to Led Zeppelin! Sounds simply mah-vellous, doesn't it?
And if you weren't lucky enough to have been one of our ticket winners, check back here for exclusive footage of the inductees. In the meantime, why not have a look at our gallery of previous inductees. Brilliant!
Sources: [ ClassicRockMemorabilia.com ]