Watch New Roger Waters Video For "Hello"
Resources & Links
The Last Mimzy Music Website |
---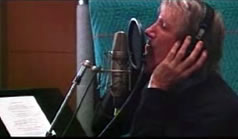 Roger Waters music video to new son Hello (I love You) from The Last Mimzy.
As previously reported (here), Roger Waters collaborated with Academy Award winner Howard Shore to record the song Hello (I Love You) for the forthcoming film The Last Mimzy. You can now watch/listen to the full music video for the song, which features Roger in the studio making the recording, on the official Last Mimzy Music website.
The song will be released as a single available by download on the 26th March 2007 (CATALOGUE – SILCD9995) and will feature on the film's soundtrack on Silver Screen Records (CATALOGUE – SILCD1231). The film is on general cinema release in the USA from 23rd March 2007.
Watch The Video!
You can watch the music video online here on the official Last Mimzy Music website.
Sources: [ Jelena from SilvaScreen.co.uk]