Win Abbey Road Studio Time and Logo!
Resources & Links
MySpace Arnold Layne Competition | David Gilmour's Official Website | Discuss on the forum
---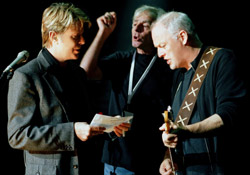 EMI UK has come up with a fun competition for musical combos to win a day's recording in Abbey Road Studios by creating their very own version of Arnold Layne.
Famed Pink Floyd and ex-Hipgnosis designer Storm Thorgerson has also agreed to design a new logo for the winners, which is a prize worth entering for alone.
The idea is that ANY musical entity can enter any version they like (as long as it's their own recording) of Arnold Layne, which they can then upload to a special MySpace page.
All the rules are there, but essentially: you record it; you post it; the numbers get whittled down; and David himself will judge the winner from the Top 3. Winners get a free day recording at Abbey Road, plus a free band logo by the legend that is Storm Thorgerson.

The entrance page has links to the video, the sheet music, the iTunes original, and a pre-order for the digital version of the new Arnold Layne single.
The competition runs until Monday 22nd January 2007, so check it out. Visit the MySpace page for more info.
Sources: [ David Gilmour ]