You Ask Pink Floyd's Bass Player Guy Pratt A Question in NPF Q&A
Links – Guy's official website | Guy's blog | On Wikipedia

---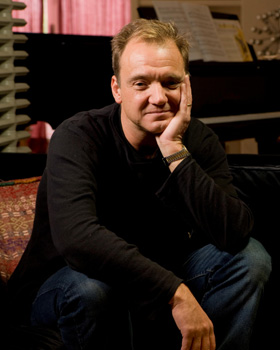 Guy Pratt, the bass player for Pink Floyd and David Gilmour, has kindly agreed to do a "Questions and Answers" session with NPF site visitors. That means you can ask him a question!
Guy, who is currently doing a comedy tour called Breakfast of Idiots in Australia, has played bass for many famous artists.
He has worked with Pink Floyd, Echo & The Bunnymen, Kirsty MacColl, The Smiths, Tears For Fears, Lemon Jelly, The Orb, All Saints, Icehouse, Madonna, Stephen Duffy, Robbie Robertson, Roxy Music, Michael Jackson, Gary Moore, Robert Palmer, Billy Pilgrim, A.R. Rahman,Womack & Womack, Coverdale Page and Toy Matinee.
He is a member of The Transit Kings with Alex Paterson (of The Orb), Jimmy Cauty (of The KLF), and Dominic Beken. Cauty and Pratt also released "I Wanna 1-2-1 With You" as Solid Gold Chartbusters. Since 2006, Guy Pratt has been playing bass for Bryan Ferry and is currently accompanying him on his solo tour throughout Europe.
Submit Your Question
If you have a question for Guy, then please GO HERE. You then reply to the forum topic by clicking the Post Reply button.
I will then choose 10 questions to send to Guy to answer on the 19th July 2009. I will put his responses up on the site for all to see.
If you want to improve your chance of getting your question submitted to Guy, don't ask if Pink Floyd are reforming!
Forum Links > Visit Forum | Register Account | Forgotten Login?

Share the Knowledge
Please share this opportunity with your friends on other websites and forums you visit and on your Facebook/Myspace etc. You can do so easily by clicking the Share button below.