Pink Floyd Olympic Opening Ceremony
Links – Watch video of Pink Floyd in Olympics on NPF Youtube Channel. | Check out some nice pictures of the pig over battersea in 2011!
---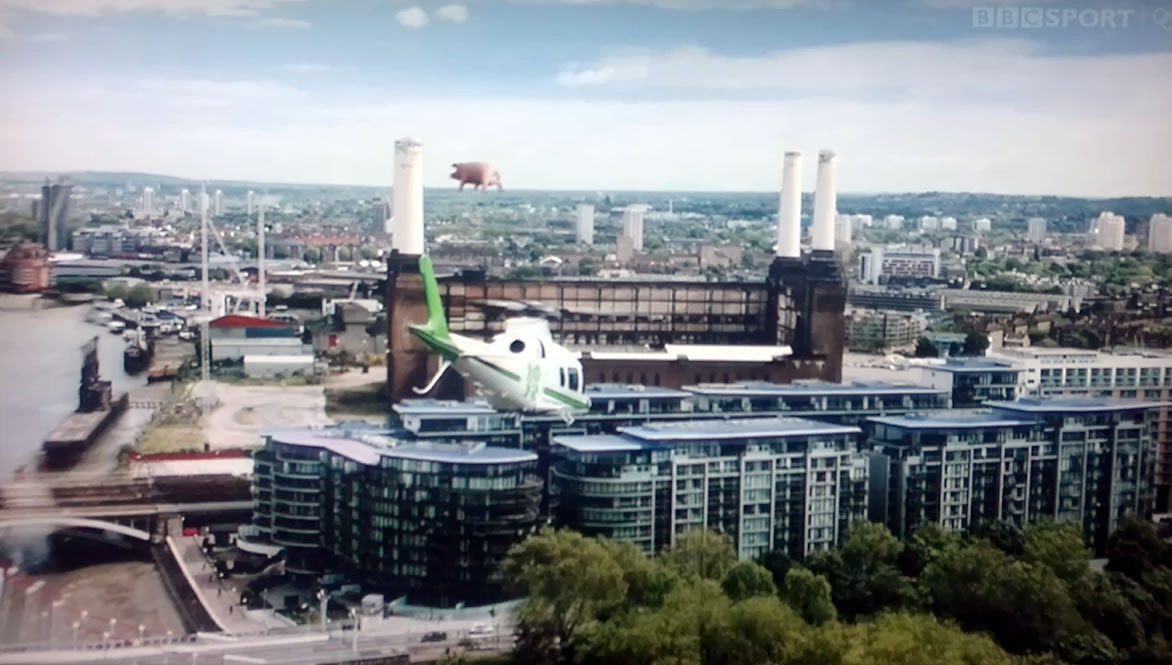 The Olympic opening ceremony featured a nice video clip early on in the event and our favourite Pink Floyd were represented both visually and in the medium of sound!
Watch video of Pink Floyd in Olympics on NPF Youtube Channel!
Pink Floyd's iconic Pig over Battersea Power Station, which was used on the front of the Animals album and featured in their live shows and legacy ever since, was there tethered to the old power station whilst a helicopter flew by as shown in the image to the right!
Immediately after in the sound montage, the opening chimes from Time, from Dark Side of the Moon, was played as the flight took us to Westminster and the houses of parliament.
Later on in the show, Pink Floyd's Eclipse, which closes the Dark Side of the Moon album, was the song played during the spectacular fireworks after the lighting of the Olympic flame at the Olympic Stadium in London. Although Pink Floyd did not perform live, it was still a great moment.
I think the opening ceremony was pretty amazing on the whole. Really liked the green and pleasant land becoming the industrial revolution with the chimneys and all the music. The olympic rings being forged and held aloft was pretty special too! Hope everyone enjoys the games!
For the launch of Why Pink Floyd, the famous Animals album front cover scene was re-created at London's Battersea Power Station on 26th September 2011. The new pig is looking good and didn't blow away this time!