Home / Pink Floyd Tour Database / David Gilmour Tour Dates / David Gilmour Tour 2024
Fans across the world are looking forward to hearing the news about David Gilmour's new album in 2024. There could also be a new David Gilmour 2024 tour of the new album. Fans would again get to see one of the biggest names in rock 'n' roll history.
Get our Newsletter and follow on Twitter to hear about the album and tour when it is announced.
David Gilmour has toured extensively over the years. This was with Pink Floyd, as a solo artist, and even with his first early bands like the Jokers Wild! That is going back a bit. The excitement builds about the possibility of a new album and tour. Lyricist Polly Samson has been posting lots of photos of David Gilmour at work in his Brighton recording studio. She has done this over the past 18 months.
David Gilmour New Album 2024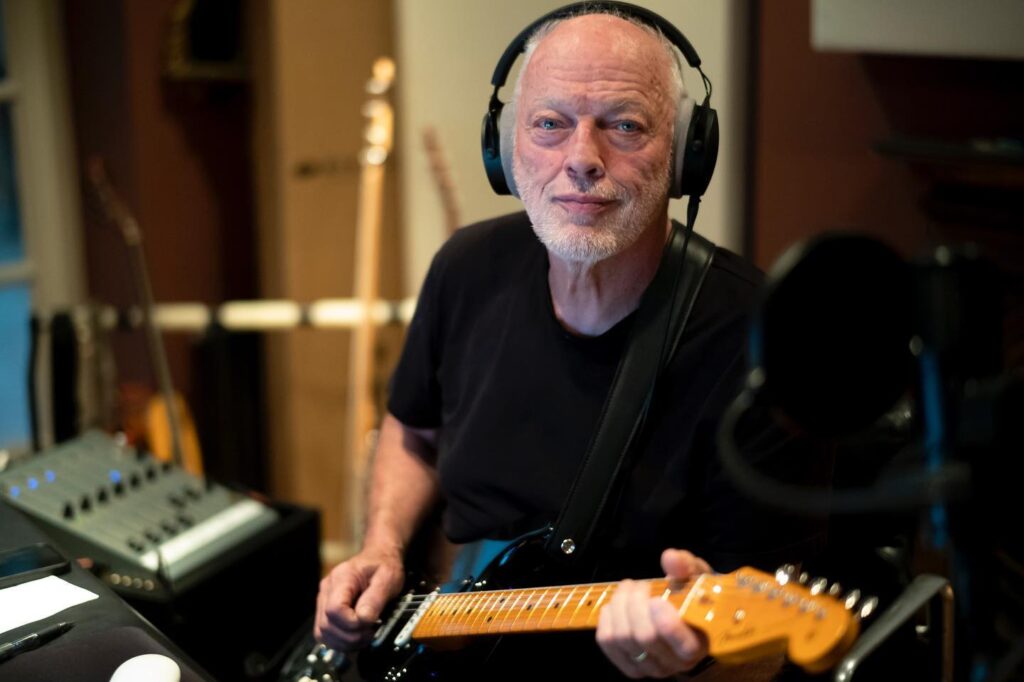 There is no better reason to go on a tour around the world than having a new studio album. David Gilmour's lyricist Polly Samson has been hard at work crafting a new album with her husband David Gilmour. Polly confirmed the new album in an interview and mentions it frequently on social media. They have been working on songs together and Polly has posted lots of photos of David in the studio. Many of these photos which are on this page.
It really is very exciting that here could be a new album of original material to look forward to.
David Gilmour Tour 2024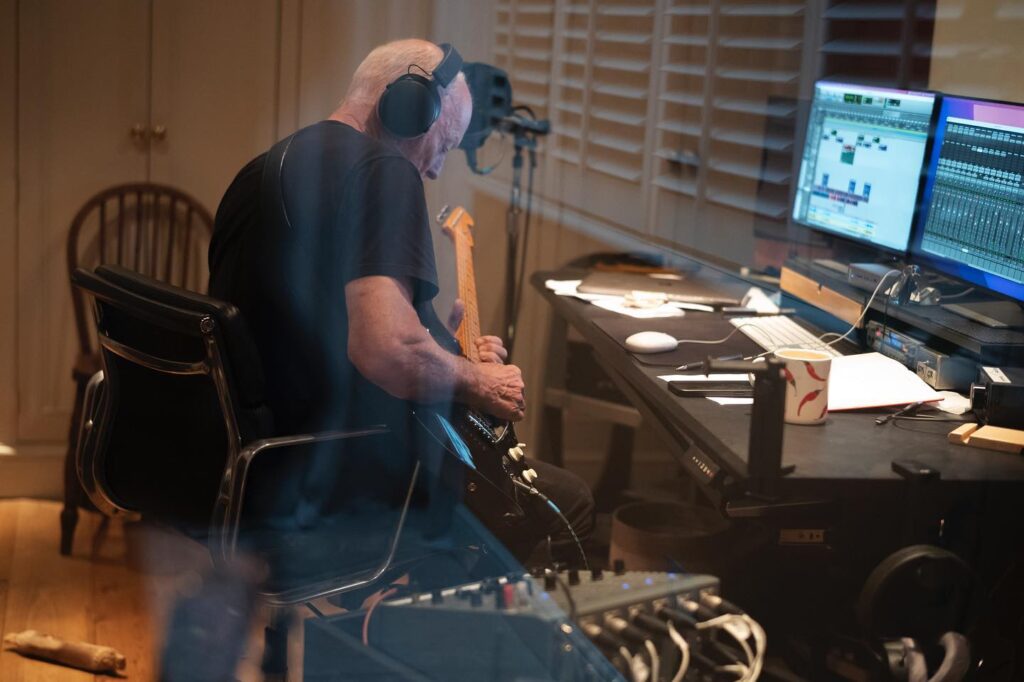 With a new album should hopefully be an extensive tour around the world. Although likely to be more low key, perhaps taking inspiration from his previous tours where be played smaller concerts at more beautiful and unique venues, these live David Gilmour performances in 2024 will be very welcome by fans. Tickets and tour information will be available on this website as soon as we have the official information.
David Gilmour's last studio album was Rattle That Lock and was toured in September 2015 to September 2016. It culminated in a 4 night run at London's Royal Albert Hall – the hottest tickets in town of course. He played at some very beautiful locations around the world on that tour.
Polly Samson Lyricist In The Studio with David Gilmour Recording New Album
Polly posted this picture on 11th October 2023. I believe this is David Gilmour's own recording studio in Brighton, Hove. Its is called Medina and was designed by Phil Taylor, his guitar tech. It enables one person to go in and record anything very easily without an engineer present. Great for noodling and getting song ideas down ready to put to Polly Samson's lyrics. Polly also posts pictures of some of her children playing music too, like Gabriel Gilmour, so perhaps they feature on piano like on Rattle That Lock.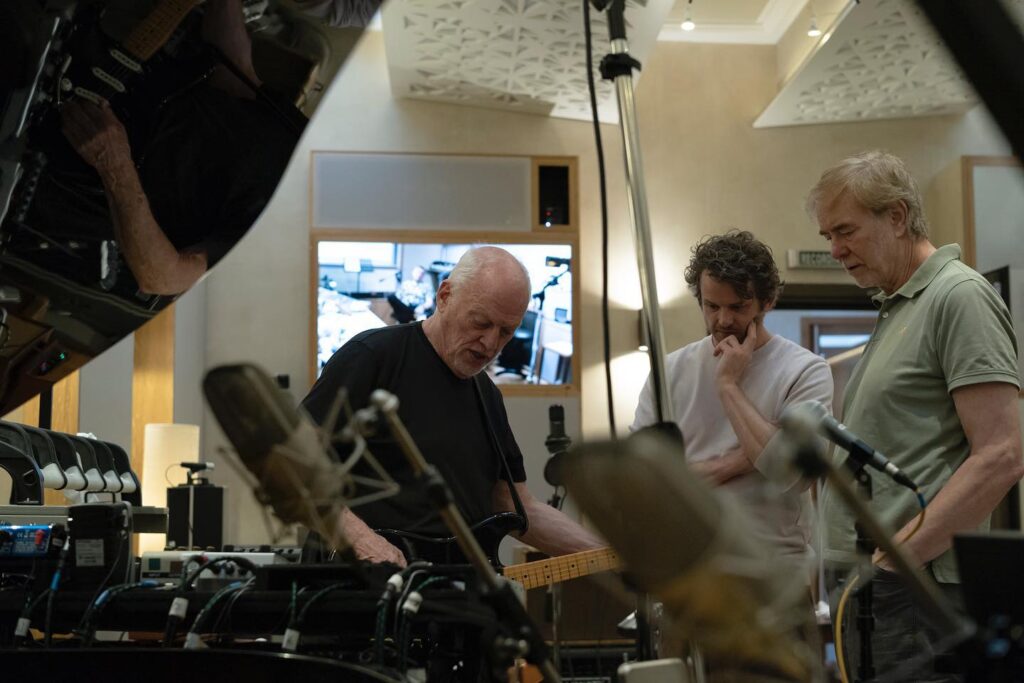 David Gilmour's Recording Studio
David Gilmour has his own recording studio at his property in Hove, Brighton. It is called Medina. It is fully kitted out for fast and easy production of quality music. Rattle That Lock was recorded there and finishing parts added to Pink Floyd's last album Endless River.
David is currently using this studio to record his latest studio album. It could be released at some point in 2024 and will hopefully result in a David Gilmour Tour 2024. I wonder what style he has gone for? Using his usual pallet of sounds and tones? Or would he go for something like Roger Waters has been doing with the Redux? Time will tell.
Medina Studio is part of the property he has been trying to sell at Medina House. He bought an old building in 2018, that use to be a baths, and had it completely renovated. He had been working at another location until recently but is now back in his studio. The house is still up for sale but now doesn't include the recording studio. This has knocked several million pounds off the asking price, probably to help it sell. As David still owns the studio, it makes sense to record his new album there. We just really hope there will be a David Gilmour tour in 2024.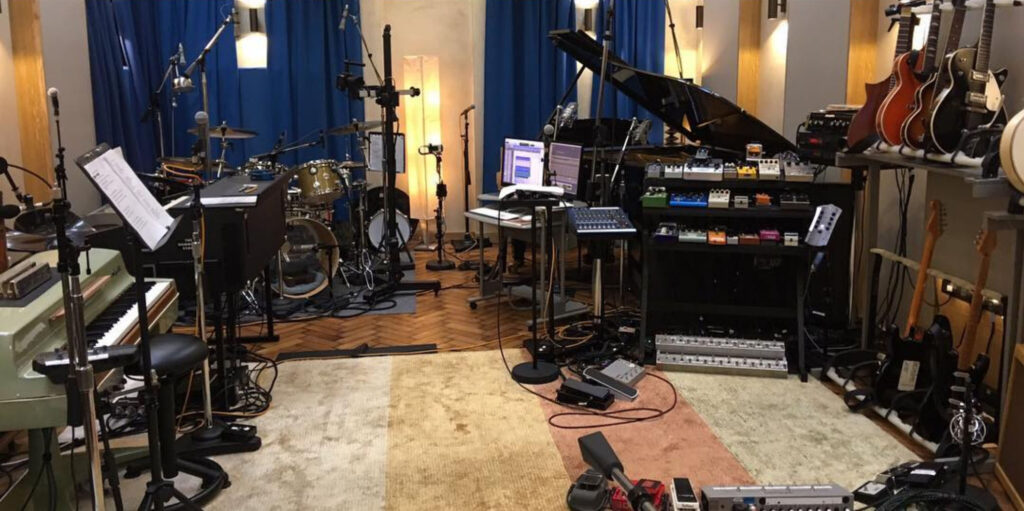 David Gilmour In The Studio Recording his New Album
Here are some photos that Polly Samson has shared of David Gilmour recording his new album since January 2022. He has been working with lots of familiar faces in the studio as you can see below. It is nice to see David working with members of his family on the album. His wife Polly is the lyricist, Romany his daughter sings and plays.
All pictures by Polly Samson 2022-2023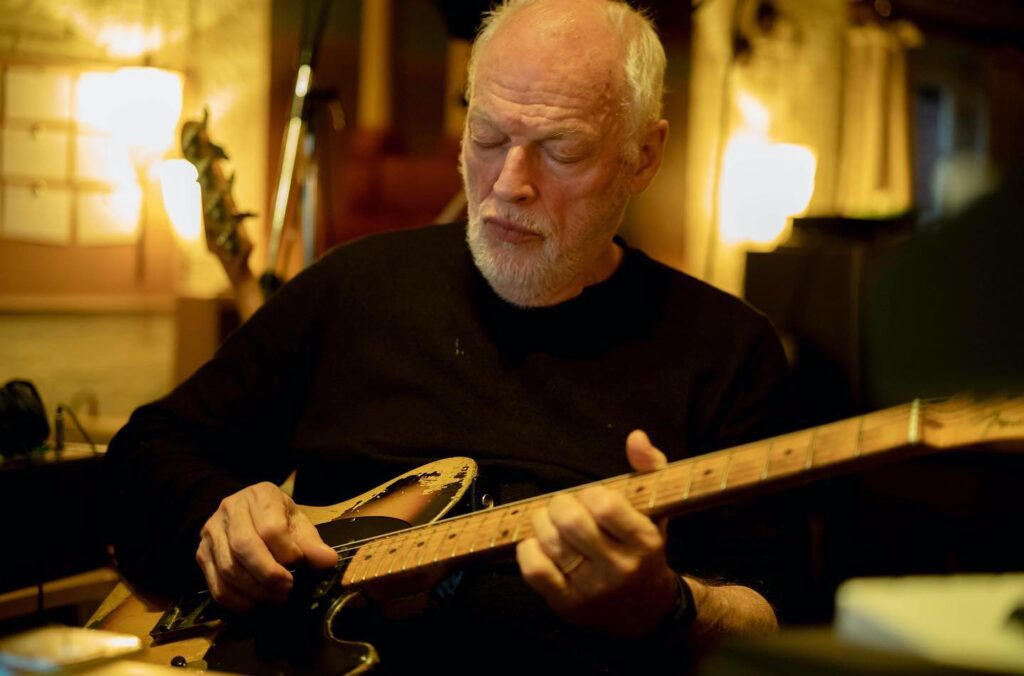 Details of David Gilmour's Previous Tours
You can see all of David Gilmour's solo tour dates in the concert database.
About Face Tour (1984)
To support his second solo album "About Face," David Gilmour went on his first solo tour in Europe and North America in 1984
He played across in Europe and North America, with a backing band that included Mick Ralphs, Gregg Dechart, Pino Palladino, and Chris Slade
The setlist featured songs from his solo albums, as well as some Pink Floyd classics like "Run Like Hell" and "Comfortably Numb"
Meltdown Concert (2001) and Semi-Acoustic Shows (2002)
Gilmour performed a series of concerts at the Royal Festival Hall in London as a part of the Meltdown festival in 2001. This concert featured a more stripped-down, semi-acoustic approach to both his solo and Pink Floyd material.
There was an excellent DVD released David Gilmour – In concert
Based on the success and acclaim of these shows, he performed additional dates in 2002, bringing the semi-acoustic show to more audiences.
On an Island Tour (2006)
Supporting his 2006 album "On an Island," Gilmour toured Europe, North America, and South America.
The concerts typically began with the entire "On an Island" album played in sequence, followed by a selection of Pink Floyd classics in the second half.
The tour included notable performances, including a concert at the Royal Albert Hall in London, which was filmed and released as the "Remember That Night" DVD.
Richard Wright, Pink Floyd's keyboardist, joined Gilmour for this tour.
Rattle That Lock Tour (2015-2016)
To support his fourth solo album, "Rattle That Lock," Gilmour embarked on a tour in 2015 and 2016, with shows in Europe, South America, and North America.
Like previous tours, Gilmour balanced new solo material with Pink Floyd classics.
Many concerts took place in historic or unique venues, such as the Amphitheatre of Pompeii, where Pink Floyd filmed "Live at Pompeii" in 1971. Gilmour's performance there was the first public performance since the days of the ancient Romans and was released as the "Live at Pompeii" DVD and album.
Gilmour's solo tours have always been an opportunity for fans to experience his distinct guitar work and voice in a different setting than the larger-than-life shows of Pink Floyd. While Pink Floyd's music always found a place in the setlists, these tours allowed Gilmour to delve deeper into his personal song writing and showcase his evolving artistry. His latter solo work benefited greatly by cowriting with his wife and writer Polly Samson.